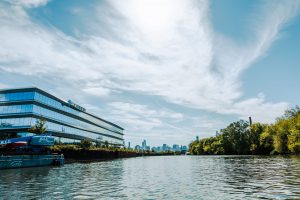 Enjoy a boat tour of the North Branch on June 16th from 5-7 p.m. Our program will feature the latest updates on major development projects in our service area, namely:
Halsted Pointe, a mixed-use development that will add five towers at 908 N. Halsted Street on the southern tip of Goose Island
The Salt District, a mixed-use office, retail, and entertainment complex coming to 1357 N. Elston Avenue
Lincoln Yards, a 55-acre, mixed-use project that will run between North and Webster Avenues and across parts of Bucktown and Lincoln Park.
The reconstruction of Lathrop Homes, a 34-acre housing development that runs north and south of Diversey Avenue on the east bank of the Chicago River.
We'd like to thank our generous sponsors: Wendella Boats, Sterling Bay, and Howe Corporation.