Upscale, casual, and fine dining fans will soon have another incredible option in the North Branch when 1308 Chicago opens on July 7th.
Located in the 1308 N. Elston office campus across from the Salt Shed, this cozy restaurant with reclaimed wood and warm earth tone colors is the perfect place to host business meetings, happy hours, and events.
With a "Speak Eatery" feel to its space and comfortable tufted furniture, 1308 can serve a capacity of thirty-five people.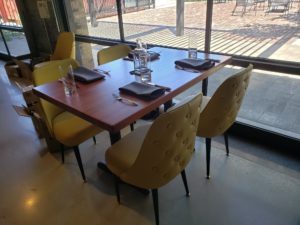 A woman-and-minority-owned business, 1308 will be open for lunch from 11-3 p.m. and dinner from 4-9 p.m., Monday through Friday. Reservations are preferred.
Along with serving classic-prohibition era cocktails, the menu features something for everyone with a variety of vegan friendly, gluten free, and meat dishes. The restaurant also offers mouth-watering desserts like bumpy cake (pictured below).
And 1308 has a dynamic staff; Head Chef Brooks worked with Stephanie Izard, a highly-accomplished chef well-known for her restaurants, The Girl and the Goat and Little Goat Diner.
The general manager, Phil Miley, brings significant hospitality experience to 1308 having worked for Lettuce Entertain You, Sage Restaurant Group, and J.W. Marriott.
Owner Kimberly Moore initially launched 1308 out of a desire to provide her staff at KDM Engineering with a lunch option after moving her 100-employee utility and telecommunications engineering firm to the North Branch.
1308 has quickly evolved into a job-creating enterprise. It's expected the restaurant will employ between 13-15 people in high-quality jobs that pay $15 an hour plus tips.
1308 is currently hiring for servers, bartenders, dishwashers, and a beverage manager. Anyone interested in applying for these positions can do so here.
North Branch Works partnered with Kimberly Moore and helped 1308 receive a grant from the City of Chicago's Small Business Improvement Fund when the program was open last year in the North Branch South Tax Increment Financing (TIF) District.
SBIF is wonderful program that provides start-up and existing businesses with reimbursable grants for permanent building improvements. In this case, SBIF helped cover a portion of 1308's buildout costs.
In addition to its opening on July 7th, you can take a behind-the-scenes tour of 1308 during our 2nd Annual Bike the North Branch, which will be held on Saturday, July 30th.  1308 is the first stop on our bike tour.
North Branch Works is thrilled that 1038 Chicago is opening and highly recommend visiting.
With questions and to connect with 1308, please reach out to info@1308chicago.com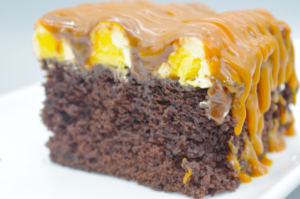 Image credit: 1308 Chicago