The City of Chicago's Small Business Improvement Fund (SBIF) is one of the best tools we have to promote economic development, add high-quality jobs, and strengthen businesses in our service area.
In June, SBIF was open in the Western Avenue South TIF District in the North Center neighborhood; we're thrilled to announce 21 businesses applied for grants!
SBIF provides businesses with reimbursable grants for permanent building improvements in TIF districts across the city. The program is open to commercial and industrial businesses.
SBIF funds can be used for projects such as storefront renovations, building systems, interior remodeling, and roof replacements.
Commercial businesses are eligible for grants covering 30%, 60%, or 90% of a project's costs while industrial businesses with 200 or fewer employees can receive reimbursement for 50% of the cost of a building upgrade.
North Branch Works staff conducted extensive outreach for the program in Western Avenue South, including canvassing the area with staff from 47th Ward Alderman Matt Martin's office (pictured below right) and writing a story promoting SBIF for 32nd Ward Alderman Scott Waguespack's newsletter.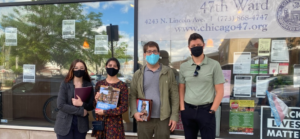 In addition, we made hundreds of phone calls, emails, and sent letters encouraging eligible businesses to apply.
Many of the 20 applications resulted from our outreach to businesses such as Delmark Records, Environmental Futures, Burning Bush Brewery, E & J Foreign Cars, and more.
And thanks to our outreach efforts, we're excited to welcome Drs. Valdes & Kulekowskis Podiatry (pictured above) as our newest member business in Western Avenue South. Stay tuned for a feature of this dynamic woman and minority-owned podiatry practice that serves low-income Chicagoans.
SBIF continues to open in TIF Districts across the city every month. Some of the SBIFs that will open close to North Branch Works' service area include:
Fullerton/Milwaukee in August 2021,
Western Avenue North in October 2021
Avondale in November 2021.
The next TIF District scheduled to open for SBIF in our service area is Addison South in March of 2022. Western Avenue South will open again in June of 2022.
To see a full calendar of SBIF openings, please go here.
With questions about SBIF and North Branch Works' low-interest Small Business Loan Fund, please contact Steve Simmons, 773-929-5552 x2226, steve@northbranchworks.org:10033
Image credit: Drs. Valdes & Kulekowskis Podiatry