Since 1985, Anne Bigane Wilson has led Bigane Paving, a fourth generation-owned asphalt company, turning it into a major asset in the Chicago region.
Founded in 1907 by John Bigane, the business initially started as a retail coal and oil supplier. In the late 1950's, the company added asphalt to balance out the seasonal nature of fuel delivery; over time, the demand for asphalt grew and became the company's primary product offering.
Today, Bigane Paving serves the Chicago region through its high-quality work on infrastructure improvements, streetscapes, and street and parking lot resurfacing and replacement projects.
The company's central location (935 W. Chestnut Street) just west of Goose Island among similar land uses provides it with safe and easy access to the city and suburbs. It's a great example of a thriving industrial company whose future North Branch Works is working hard to protect through our advocacy and by monitoring zoning changes.
In addition to providing valuable services, the company employs approximately twenty people in permanent high-quality jobs and its seasonal staff can reach close to 100 at its peak.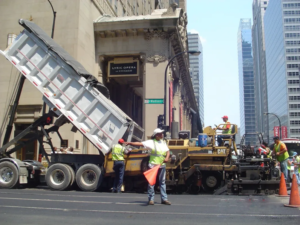 Most of the firm's business comes from winning city and state project contracts. Remarkably, the company has paved 1,500 miles of streets.
Some of Bigane Paving's high-profile projects include paving the 606/Bloomingdale Trail as well as bike lanes in the City of Chicago's Streets for Cycling 2020 Plan and resurfacing the North Avenue Bridge
In 2018, Bigane Paving won the Chicago Department of Transportation's Contractor of the Year Award for resurfacing North and Southbound Lake Shore Drive between Grand Avenue and Monroe Drive.
Although most of its work comes from public contracts, the business also excels in working with the private sector, having completed successful projects with many religious and scholastic institutions.
And much of the firm's success is due to the innovation of its leader, Anne Bigane Wilson. A major success during her tenure was the purchase of Ogden Avenue Materials, a manufacturing operation, that allowed the company to expand and serve the entire Chicago region.
Within the industry, Anne is well-known for her ability to work well with the many diverse stakeholders who play important roles in construction projects. Her customers praise her for her detailed approach that consistently delivers projects on time and budget.
During Women's History Month, North Branch Works is celebrating our women-owned business members. We're honored to recognize Anne Bigane Wilson for the many contributions she's made to Bigane Paving, North Branch Works, and Chicagoland.
If you'd like to connect with Bigane Paving, please reach out to info@biganepaving.com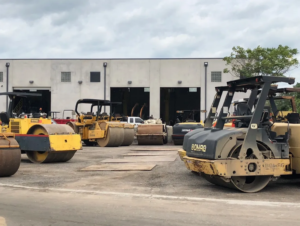 Image credits: Bigane Paving