For over a hundred years, the Boys and Girls Clubs of Chicago (BGCC) have provided dynamic programing to young people, helping them to reach their full potential as productive, caring, and responsible citizens.
One of the BGCC's most effective initiatives is the Great Opportunities (GO) Program. It's a six-week, subsidized workforce development program for youth between the ages of 16-24 that includes support services such as transportation, uniforms, work shoes, and health and drug screenings.
The GO Program connects youth with internships at companies so they can job shadow, gain valuable hands-on experience, and explore a variety of career paths. BGCC staff prepare and match youth with opportunities before asking the employer partner to interview them.
As a new member of North Branch Works, the BGCC seeks to form partnerships with member businesses, especially industrial companies, that can expose youth to high-quality jobs that pay family-sustaining wages without requiring advanced degrees.
Bringing a youth into your company is a great way to promote careers and your business, invest in Chicago's future workforce, and ultimately, advance equitable neighborhoods.
And if your business hires a participant, you may be eligible for on-the-job training, which covers 50% of the youth's wages if he or she is employed for at least six months.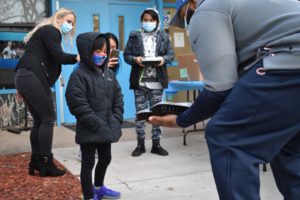 We're fortunate to have three Boys and Girls Clubs doing incredible work in our service area, including the Linda and Bill Gantz Club (2915 N. Leavitt Street) at Lathrop Homes led by Club Director Marco De La Rosa (pictured above).
The Linda and Bill Gantz Club regularly hosts community events that support children and families in our service area such as a Back-to-School Backpack Drive, a Thanksgiving Meal Drive with the Chicago Bears (see right), and a holiday gift exchange (see bottom left).
The BGCC welcomes the support and participation of NBW members and supporters in these events.
During the pandemic, the BGCC has pivoted to offering a combination of virtual and in-person opportunities that follow COVID-19 protocols such as requiring masks, social distancing, and cleaning surfaces regularly.
As a result, children without access to computers or experiencing difficulty with online learning can connect with a mentor and continue their education.
Another way you can support the BGCC is by joining its Club Champion Monthly Giving Program, which has donation options at $25, $35, $50, and $100.
North Branch Works is thrilled to welcome the BGCC as a new member. We're excited about the GO Program and the opportunities it offers to promote jobs and companies in our service area.
With questions and to connect with the BGCC, please email: info@bgcc.org
If you work for a company and would like to participate as an employer partner in the GO Program, please contact Fannieleah Brown, Project Director, 312-226-2323, fbrown@bgcc.org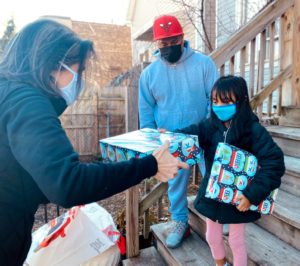 Image credit (top): Anne Evans, Active Transportation Alliance
Image credit (body): Boys and Girls Clubs of Chicago