"Being able to use my talents to provide a service to someone who's in need is its own reward," says Field Manager, Reggie Hamilton, referring to a recent project he completed for the Small Accessible Repairs for Seniors (SARFS) initiative in 2021. "The fact that I get to interact with so many different seniors on so many levels is a privilege to me."
Now in its 12th year, SARFS is a free program for eligible seniors that is funded by the Chicago Department of Housing with the aim to create safe and accommodating living spaces that allow seniors to age-in-place and live independently while keeping neighborhoods affordable. 
A Free Program For Eligible Seniors
Residents must be 60 or older and meet the U.S. Dept. of Housing and Urban Development's (HUD) income requirement--an annual income no greater than $59,650 for two-people--in order to qualify for SARFS. Residents are also eligible for the program if they are a homeowner or renter, living in a single-family home or multi-family buildings with one-to-four units in one of the following city wards: 1, 2, 24, 26, 27, 28, 29, 30, 31, 32, 33, 35, and 37.
If you live outside these wards, we're happy to connect you with the agency in your neighborhood. In fact, we often make referrals to the Community and Economic Development Association of Cook County (CEDA), 311, and the City of Chicago's Roof and Porch Programs.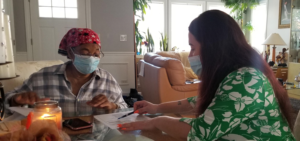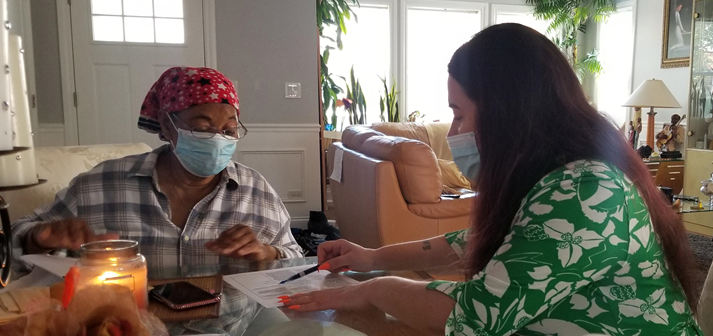 Home Improvement & Safety
To make it easier and safer for residents to live at home, SARFS covers the cost of the following:
Repairing and installing safety equipment like fire extinguishers and smoke and carbon monoxide detector 

Security improvements

Improvements to floors, steps, and doors

Accessibility upgrades such as grab bars, transfer benches, tub-assist bars, chair-height toilets, faucets, handrails, and handheld showers
"We're trying to make sure that communities remain affordable and that people don't get priced out of their homes," says Steve Simmons, North Branch Works' Director of Business and Economic Development. "Ideally, we want to make enough enhancements so that they can live as independently as possible."
Only Four More To Reach Our Goal
If 2020 and the pandemic taught us anything, they reinforced how important home-safety was and why a program like SARFS was critical to meet that need. 
"Covid impacted staff and the SARFS Program by limiting our on-site application and site assessment process," says Misty LeBlanc, Program Manager. 
North Branch Works was forced to re-evaluate the program and make necessary changes in order to keep up the momentum. We switched over to mailing out applications and conducting phone interviews during the lockdown, and we put safety procedures in place to address concerns with visiting and working in seniors' homes once the stay-at-home mandate ended. 
"SARFS Staff hit the ground running and were able to start production work as soon as the city opened up in June of 2020," she adds. "We served our seniors well and went above and beyond to keep an open line of communication."
2021 presented its own set of challenges and setbacks imposed by Covid, but in spite of them, North Branch Works came within a few projects of reaching our goal of 33 residential jobs. However, it is our intention to fulfill those jobs, and to that end, we are actively seeking funding for them and to expand the program for 2022 and beyond. Our immediate goal is to raise $2,000, and you can make your donation today by visiting our fundraising page. 
For general information and to learn how to support SARFS, please contact Misty LeBlanc, Program Manager, misty@northbranchworks.org, 773-929-5552 x2235.
This post was authored by David Telisman, President of David Telisman Communications, LLC, a content writing and email marketing business serving companies in the Chicago region and beyond.