Join Urban Rivers for the 2nd Annual Wild Mile Block Party. It will be held this Sunday, June 25th from 3-8 p.m.  at the Wild Mile (935 W. Eastman Street, Chicago, IL 60642) located near Goose Island. 
If your corporation is excited by their mission, please view this flyer for corporate sponsorship opportunities and more details about the party. This celebratory gathering is a free event--open to the public--with activities for people of all ages and interests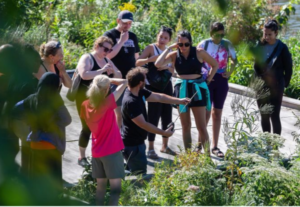 Urban Rivers is a non-profit organization dedicated to transforming rivers into an urban sanctuary through education, community engagement, economic development, and ecological restoration. 
Urban Rivers' mission is to restore river habitat in urban waterways by activating the rivers through the use of floating gardens & walkways that can fit into existing river systems. These gardens are filled with native wetland plants that provide food, shelter, and overall high-quality habitat for native wildlife — a sanctuary in the middle of city.
The City of Chicago has taken exciting steps toward this vision with the Wild Mile, a 17-acre floating park in the North Branch Canal. This initiative has been led by the Chicago Department of Planning and Development and two of our partners, Urban Rivers, and the Near North Unity Program.
These sanctuaries aren't just for the fish, birds, and turtles. Urban Rivers is restoring life to the Chicago River for all to enjoy and connect as many people as possible back to nature.
The next phase of the Wild Mile is to connect the walkway up north to Weed St. This will finish the section referred to as the "North Loop". The North Loop will establish a true entrance/exit and showcase how this park can activate the river for both wildlife and humans alike.
Please support the Wild Mile by signing up for updates, taking advantage of volunteer opportunities, and donating.
Image credits: Urban Rivers