Approximately twenty-five people joined us on April 27th for a fun, behind-the-scenes tour of Goose Island Brewery, Judson & Moore Distillery, and Maplewood Brewery & Distillery.
Our group met at the original Goose Island Brewhouse located at 1800 N Clybourn Avenue. Founded in 1988, Goose Island Brewhouse is the longest continuously operating craft brewery in Chicago.
The historic brewhouse manufactures limited, one-of-a-kind beers on site and serves elevated pub fare from a scratch kitchen.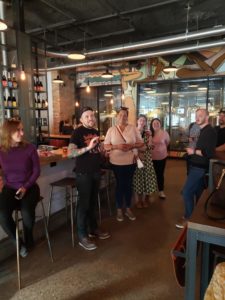 After a dynamic tasting and tour with the head brewer, Mike (pictured right), we hopped in a bus provided by M&M Limousine. The bus took us along North Avenue to Elston Avenue; we traveled north to Judson & Moore Distillery (3057 N. Rockwell Street).
A family-owned business, Judson & Moore specializes in the production of whiskey, which brings together Midwestern grain, Lake Michigan water, Minnesota white oak, and the fine work of countless farmers, coopers, and artisans.
Judson & Moore was born from the boundless curiosity of a third-generation Minnesota-raised silo builder and entrepreneur and a third-generation Tennessee-raised distiller and engineer.
Following a tour of its incredible production and barrel rooms with owner Collin Moore, we sampled Judson and Moore's award- winning rye and bourbon whiskeys.
The distillery opened in 2022; Judson & Moore is in the Rockwell on the River complex, a creative adaptive reuse of a former tannery.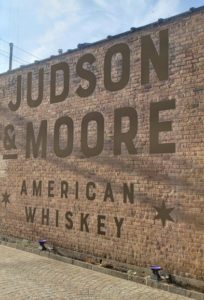 Many small businesses call Rockwell on the River home including Metropolis Coffee, Soul & Smoke, and Metropolitan Brewing.
Our tour concluded with a visit to Maplewood Brewery and Distillery (2717 N Maplewood Avenue). Since 2014, Maplewood has been producing finely crafted beer and spirits in Logan Square.
Maplewood was the first business in Illinois to establish a brewery and distillery under one single roof. General Manager Bob Zacharias walked us through Maplewood's production space and showed us how the company separates its brewery operations from its distillery equipment.
After a tasting, our group enjoyed a pizza dinner in Maplewood's inviting and cozy taproom.
The North Branch is so fortunate to have a creative and thriving manufacturing community.  In addition to the three businesses on our tour, we highly recommend visiting Metropolitan Brewing, Ravinia Brewing, Revolution Brewing, Burning Bush Brewery, and KOVAL Distillery.
These manufacturing businesses add great value to the city by providing high-quality jobs that do not require advanced degrees.
We would like to thank everyone who joined us for the brewery and distillery tour including our friends at MxD.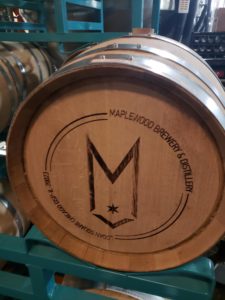 Image credits: Crispina Ojeda Simmons