A fixture on Chicago's Goose Island, Essanay Studio and Lighting helps clients shoot dynamic commercials, TV shows, and movies by supplying world-class studios and equipment.
Founded in 1919, the business occupied several locations in Chicago, including the famous Essanay Film Manufacturing Company stage, before moving to Goose Island in 1996.
Today, Essanay Studio and Lighting rents sound studios and equipment for stage shoots as well as location production such as lights, stands, camera dollies, grip trucks and generators to various production companies.
Some of the company's high-profile clients include McDonald's, Apple, General Motors, State Farm and Winnebago. Essanay also provided the equipment and behind-the-scenes expertise for the Showtime hit series, Shameless, and Meet the Maddons, a promotional Winnebago ad series featuring former Chicago Cubs manager Joe Maddon.
The company's Goose Island facility (1346 N North Branch) is a great example of adaptive reuse; Essanay converted a former food production company building and additional new construction into a space featuring two sound stages, dressing rooms, production areas and an equipment storage building.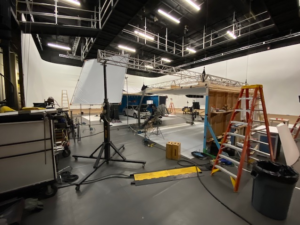 One of the best parts of Essanay's work is the variety that comes with each job. Every client has different equipment and preparation needs. For example, commercials may require one-to-two weeks to identify props and a shooting location whereas movies can, in general, take three-to-four weeks to do similar preparation before filming.
Along with making major contributions to Chicago as a business and employer, one of Essanay's partners, Wayne Kubacki--who recently retired--was a founding member of The Illinois Production Alliance (IPA). The IPA was specifically formed with the goal of fighting for policies that made Illinois an attractive place to do filmmaking.
The IPA's advocacy resulted in the passage of the Illinois Film Tax Credit, an incredible win because production companies often locate their productions wherever they can take advantage of the best tax credits.
Essanay moved to Goose Island due to its central location in Chicago and the property being located in a Planned Manufacturing District, knowing that it would be surrounded by compatible land uses and ensuring that Essanay could deliver to its clients spaces that can be used as intended. This includes recording sound for motion pictures; Essanay's success depends on its ability to provide these spaces without nearby conflicting land uses.
North Branch Works is proud to have Essanay Studio & Lighting as a member and congratulate the business on its twenty-fifth-year anniversary on Goose Island.
To connect with Essanay Studio & Lighting, please reach out to: info@essanay.com
Image credits: Essanay Studio & Lighting Company