Seeing a need for innovation in the refrigeration industry, William Henry Howe founded Howe Corporation in Chicago in 1912, designing equipment that popularized the use of "artificial ice."
Today, Howe Corporation is a fourth generation, woman-owned business that manufactures and sells refrigeration equipment at its facility located at 1650 N. Elston Avenue. The company produces approximately 1,000 units in a typical year; they range in daily ice production from 1,000 to 20,000 lbs.
Along with being highly productive, these machines are environmentally sustainable, a core value of Howe Corporation. With proper maintenance, the company's ice flaker machines (see below right) can last over 10 years in the retail supermarket and over 20 years in the industrial food processing market.
Energy Star recognized Howe Corporation's commitment to the environment, presenting the company with a 2019 Excellence in Design Award and Partner of the Year Award for 2020 & 2021. Many of the company's ice flaker machines have been Energy Star certified.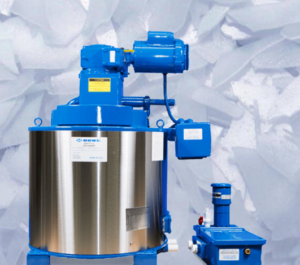 It's ideal to use flake ice to preserve food because it has the most surface area contact of any form of ice and provides the greatest cooling capacity. Flake ice easily molds around the product to cool even more efficiently.
Customers use #HoweIce to preserve food along every step in the supply chain from field to table and sea to plate. And having a safe and reliable food supply chain has been incredibly important during the pandemic.
Howe Corporation prides itself on providing high quality customer service and has built many long-term relationships with clients, some of whom have been customers for over thirty years. With export offices in Costa Rica and Mexico, the company is well-known in Latin America.
Some of Howe Corporation's high-profile clients include Whole Foods, Panera Bread, Wegmans, Concool, and the Seattle Fish Company. And you can find Howe's machines in over fifty of the top one-hundred supermarket chains in the U.S. and over 100 countries globally.
The company's product line includes ice flaker machines, condensing units, ice storage bins, filtration systems and accessories. Howe Corporation is a great example of how manufacturing continues to thrive in Chicago and has pivoted from large companies to mid-size and smaller firms.
Currently, Howe Corporation employs a workforce of thirty people in high quality jobs--many of which do not require an advanced degree. And by participating in the City of Chicago's TIF 50/50 pilot program last year, Howe Corporation was able to hire during the pandemic as well as upgrade the skills of its incumbent workers.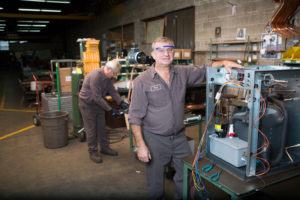 The company's strong commitment to the Chicago region is reflected in its support of area organizations. In addition to being a member of North Branch Works, the President of Howe Corporation serves as the Board Chair for Jane Adams Resource Corporation (JARC), a provider of high-quality skills training and support services to low-income and unemployed Chicagoans.
Howe Corporation is WBE certified and obtained its Women-Owned Small Business certification (WOSB) from the federal government. This designation will help the company continue to break down barriers within the refrigeration and cooling industry, apply for federal contracts, and connect with other businesses seeking to diversify their supply chains.
Please support Howe Corporation by following and liking the company on LinkedIn, Twitter, and Facebook.
To connect with Howe Corporation, please reach out to: howeinfo@howecorp.com
Image credits: Howe Corporation