Update: February 23, 2021:  Wendella Boats' 2021 season will start between March 12-19 depending upon conditions in the Chicago River. For any business, property owner, or organization looking to host a private event aboard a Wendella vessel, please contact: aws@wendellaboats.com
Because of COVID-19, the long-term viability of Chicago's small businesses in the events and entertainment field like Wendella Boats depends upon the support of local residents and businesses.
A family-owned, multi-generational small business, Wendella Boats offers breath-taking architecture boat tours, hosts corporate events, and operates the popular water taxis which safely transport people to multiple destinations along the Chicago River.
Founded in 1935 by a Swedish immigrant who bravely purchased the company's first boat during the Great Depression, Wendella Boats played a big role in helping Chicago and the country through major events such as CTA worker strikes, World War II, the Cuban Missile Crisis, and 9-11.
Prior to the pandemic, Wendella Boats employed over three-hundred people and kept them in jobs year-round by having them repair boats during the winter months.
And these are good jobs that pay competitive wages without requiring much education or experience beyond high school.  As an employee benefit and workforce development strategy, the company provides scholarships to help employees obtain their Coast Guard credentials.
Now, because revenues have fallen 90%, the company has been forced to reduce its workforce to one-hundred and furlough 60% of its staff. Wendella Boats also recently made the difficult decision to suspend water taxi service. Just last year, water taxis transported 415,000 people to and from various riverfront destinations.
With tourism and hotel occupancy in the central business district down sharply, the company is counting on Chicago residents and local companies to take architecture tours and book events.
The good news is Wendella Boats provides the safest and socially-distant entertainment available. It's a great way to see Chicago's awe-inspiring architecture up close, learn more about the city, and relax and unwind.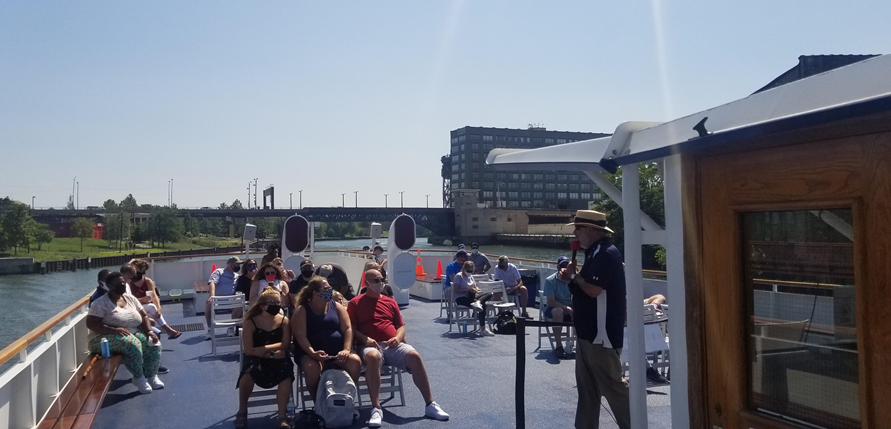 The company's ninety-five-foot steel tour boats feature an open air upper deck (pictured above) and plenty of space to comfortably social distance. And you can rest assured knowing the company follows all the COVID-19 protocols, including cleaning the boats vigorously after each trip, taking temperatures of its staff, requiring face masks, and enforcing social distancing.
Because of these measures, only one-hundred people are allowed on the boat per outing. And while following these guidelines is a must for public safety, it also means the company is down one-third of its revenue even if it sells out the boat.
Despite these challenging times, Wendella Boats continues to show its incredible commitment to the city. A portion of the proceeds from its bar service is donated every week to local nonprofits.
North Branch Works is proud to count Wendella Boats among our members and grateful it can safely host tours. We highly recommend hopping on an architecture boat tour, booking an event, and referring family, friends, and colleagues.
Any support you can provide is greatly appreciated. You can purchase tickets for an architecture tour by stopping by Wendella's dock (see below) at 400 N. Michigan or going here.