Ten years ago, Kimberly Moore was nervously pouring over prints in a tiny Loop office she had just leased.
It wasn't the work that made her tense, as she was confident in her ability to produce quality designs for her first client. What was at stake was her dream. Moore envisioned a reputable, recognized electrical engineering firm that didn't look or think like any other engineering firm.
Two years later, she would approach her first engineering hires whose diverse backgrounds, beliefs, and life experiences brought different perspectives to their work. With such unique talent, the firm set out to challenge and change the energy infrastructure to light up the world.
"After years of working for companies where I was the only Black woman engineer, I wanted to show the engineering world that I had the chops to claim a seat at the table," she said. "It wasn't easy, but you know what, I am firmly in that seat now."
With Moore as Founder and President, KDM Engineering is celebrating its 10th anniversary providing full-service engineering consulting and design for mid-to-high voltage power utility distribution, natural gas, and telecommunications.
The business has grown to over 100 people (pictured above) and last year moved into three dedicated floors of the industrial building at 1308 N. Elston Avenue. It also has offices in Baltimore, Philadelphia, and South Bend, Ind.
The company is different, according to the team. Every employee sits in gaming chairs, which are made for comfort over long stretches of time. The teaming areas throughout the building invite collaboration, and arcade games, a pool table, puzzles, and nap room give the team stress relief when they need it.
The company looks different too: 36% are women (in a field where women make up a meager 13%), 53% are Millennials, 14+ different languages are spoken, and 50% are vegetarian. KDM Engineering is nationally certified as a Minority Business Enterprise and a Woman Business Enterprise.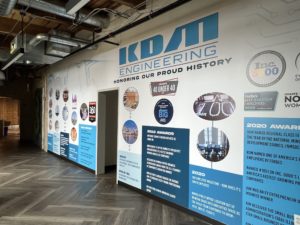 KDM's culture promotes giving back. Moore founded the nonprofit Calculated Genius to help underrepresented youth pursue STEM studies and careers. KDM hosts Calculated Genius' Summer Scholars Program, where Chicago high school students can get hands-on engineering experience. KDM employees also volunteer their time regularly for community service events.
"It's important to me that KDM is an active member of the community--whether it's inspiring the next generation of STEM, helping to keep the environment clean and safe, or supporting the local Habitat for Humanity," she said.
Moore also constructed the new restaurant, 1308 Chicago, on the premises of the KDM office. To help with the build out, she secured a small business grant from the City of Chicago's Small Business Improvement Fund with help from North Branch Works.
"KDM Engineering has come a long way from a one-woman operation, and my vision of challenging and changing the infrastructure is happening," she said.
Learn more at kdmengineering.com.
This is a guest blog authored by Jennifer Clark, Marketing Communications Manager, of KDM Engineering.
Image credits: KDM Engineering