During a recent webinar, North Branch Works brought together developers to give updates about Lincoln Yards, Halsted Pointe, and the modern, two-story logistics facility under construction at Elston & Division.
The program also included new construction timelines for the Division Street, Chicago Avenue, and Cortland Street Bridge projects.
If you missed our virtual program, a recording is available here. For the highlights, please see the recap that follows.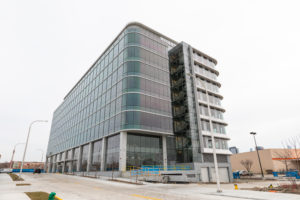 Lincoln Yards
Here are the highlights from the presentation given by Fred Krol, Managing Director, with Sterling Bay:
Construction has been completed on The ALLY (pictured right) at 1229 W. Concord Street. This state-of-the-art facility adds 280,000 square feet of laboratory and office space. The building positions Chicago to attract new firms in the growing life sciences sector.
Sterling Bay has extended Concord Place east, which is the first of several new roads that Lincoln Yards will improve.
The river wall adjacent to the ALLY at 1229 has been rebuilt and incorporates an improved seawall and a more naturalized river edge. These improvements were informed by stakeholder input.
Sterling Bay committed more than $37 million to minority-owned business enterprises and women-owned subcontractors in 2022.
The next phase of Lincoln Yards includes 1665 N Troop, an office and entertainment complex, and 1687 N. Troop, a 341-unit residential building. This phase is expected to break ground in 2023 and be completed by 2025.
The next phase of Lincoln Yards will extend Throop Street North with dedicated bike lanes and make improvements to Willow Street and Wabansia Avenue.
1237 W. Division Street
Vince Pergande, Vice President, with Logistics Property Company spoke about LPC's modern, two-story logistics facility.  Here are the key points: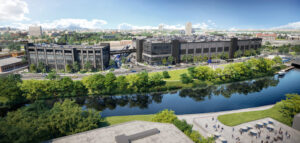 The project site is 11.5 acres and located on the southwest corner of Division Street and Elston Avenue.
This project (see rendering right) will add the first multi-story logistics building in the Chicago region. Indeed, this building is only the seventh of its kind in the country with five in New York City and one in Seattle.
Currently, there is $2 billion in e-commerce sales within a five mile radius of the site.
The project will construct two industrial buildings on top of each other. Trucks will have access on both the first and second floors.
Construction (see above right) started in August of 2022. The focus of 2023 is to put up steel and concrete.
The plan is to move on to interior construction in 2024.
It's expected the facility will be completed in late summer of 2024.
Onni Group
John Greiger, Development Manager, with the Onni Group, discussed Halsted Pointe. Here's the update:
Onni Group took control of the former Greyhound Bus site at 901 N. Halsted (near Halsted Street and Chicago Avenue) in February.
In line with the planned development, the first tower is being planned for the northwest corner of the site.
The first phase includes a 500 ft. tower that is 46 stories with 460 residential units. Retail spaces and parking will occupy the first five stories of the building.
Onni Group hopes to start the demolition of the current building in May. Currently, Onni Group is preparing the building for demolition by taking out underground tanks.
It's likely that demolition will take a few months.
The goal is to break ground on the first phase of Halsted Pointe in the fourth quarter of 2023.
North Branch Works would like to thank our panel of dynamic leaders for participating in our webinar, The State of Infrastructure and Major Projects in the North Branch.
This story is the second in a two-part series. To see the first post about bridge projects in the North Branch, please go here.
With so many projects underway and others to begin soon, North Branch Works will continue to monitor them and provide timely updates.
To stay informed, please sign up for our bi-weekly e-newsletter and follow us on LinkedIn, Facebook, Instagram, and Twitter.
Image credits: Logistics Property Company, Sterling Bay & Onni Group