A fourth-generation, family-owned American company, Ozinga serves the entire spectrum of customers—from small residential homeowners to large cities with public works projects.
Founded in 1928 in Chicago's Evergreen Park neighborhood, the company initially started as a small coal and coke yard. After surviving the Great Depression and World War II, Ozinga pivoted to supplying building materials, setting it on course to play a major role in the Chicago region's vibrant growth.
Today, Ozinga is a premier supplier of sustainable concrete, bulk materials, and logistics and energy solutions to builders in Illinois, Indiana, Wisconsin, Michigan, and South Florida.
The company runs a sophisticated operation in Chicago from its regional headquarters in Chinatown (see below right). Well-known for its red and white concrete mixer trucks (pictured above), Ozinga employees monitor and support each truck in real time to ensure a safe and on-time delivery.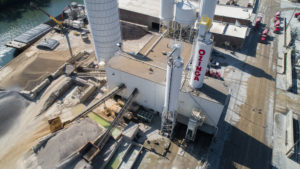 In order for the concrete mix to be viable for a project, each truck must deliver the product to the job site within an hour.
Currently, Ozinga Chicago employs three-hundred people in high-quality, head-of-household jobs.
Having industrial companies like Ozinga located in Chicago creates many benefits for the city, including the ability to build essential infrastructure and development projects quickly, high-quality jobs that do not require advanced degrees, and significant contributions to the city's general revenue fund.
Some of Ozinga's high-profile projects include supplying the concrete for renovations at Wrigley Field (see below left), Comiskey Park, Soldier Field, and the reconstruction of the Dan Ryan Expressway, which required 250,000 cubic yards of concrete.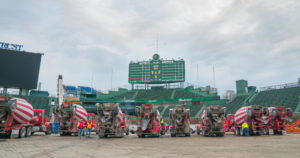 Ozinga's vast product offerings include a variety of limestone, gravel, concrete, recycled concrete, sand, and topsoil—all designed to meet the specific needs of its clients. With seventy company locations and two hundred source locations, there's really no limit to what you can accomplish with Ozinga.
The company also helps clients finish their projects on time and budget by transporting these products through an extensive network of truck, rail, barge, and ship terminals.
By delivering materials to its locations via its fleet of barges, Ozinga keeps seventy trucks off the road with each barge shipment.
And for large projects that require a high volume of concrete, Ozinga can build a portable location called Ozinga On-Site that protects the environment by eliminating transportation costs and using less energy.
The company also specializes in portable crushing, which keeps concrete and asphalt out of our landfills, reduces costs for their clients, and allows them to reuse materials.
Indeed, these are just a few of the ways that Ozinga embodies its core value of protecting the Earth and its natural resources.
North Branch Works is proud to have a strong partnership with Ozinga and grateful for the company's longtime financial support.
Our vision for Chicago includes ensuring that we protect land zoned for industrial use so that companies like Ozinga can make valuable contributions to the city over the long-term.
We would like to thank Marty IV and Paul Ozinga for their dedicated years of service on our Board of Directors.
North Branch Works would also like to recognize Chad Herst, Vice President and General Manager, for his current service on NBW's Board of Directors.
With questions and to network with Ozinga, please reach out to: info@ozinga.com
Image credits: Ozinga