Being able to live comfortably at home has never been more important. And for this reason, we're grateful to operate the Small Accessible Repairs for Seniors (SARFS) program, which allows us to make upgrades to help residents enjoy a high quality of life.
Funded by the Chicago Department of Housing, SARFS is a free program for eligible seniors. To qualify for SARFS, you must be at least 60 years old and meet the U.S. Dept. of Housing and Urban Development's income requirement, which is an annual income that's not higher than $58,250 for two-people.
And you can participate in the program if you are a homeowner or renter, living in a single-family home or multi-family buildings with one-to-four units.
SARFS covers the cost of repairing and installing safety equipment, security improvements, and other items that make it easier to live at home. We can fix and/or install fire extinguishers as well as smoke and carbon monoxide detectors.
And we can make improvements to floors, steps, and doors. The program also pays for the cost of accessibility upgrades such as grab bars, transfer benches, tub-assist bars, chair-height toilets, faucets, handrails and handheld showers.
North Branch Works is one of several city delegate agencies that offer the program. We can work with you if you live in one of the following city wards: 1, 2, 24, 26, 27, 28, 29, 30, 31, 32, 33, 35, and 37.
If you happen to live outside these wards, please call us anyway as we're happy to connect you with the agency in your neighborhood.
In fact, we often make referrals to the Community and Economic Development Association of Cook County (CEDA), 311, and the City of Chicago's Roof and Porch Programs.
Our dedicated program manager, Misty LeBlanc (pictured below), walks seniors through the eligibility process from the initial phone call, meets them in their homes for consultations, and does well-being checks during extreme temperatures.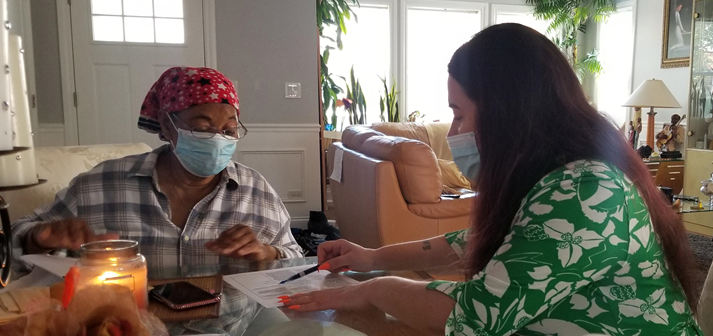 When you come into our program, you gain the many benefits of a community that cares deeply about you.
Recently, our field manager, Reggie Hamilton (pictured below right), was in East Garfield Park, wrapping up a job that included multiple repairs such as replacing drywall and rebuilding an external door frame.
Because we're fortunate to have a carpenter on our staff, we can complete jobs quickly after receiving approval from the city.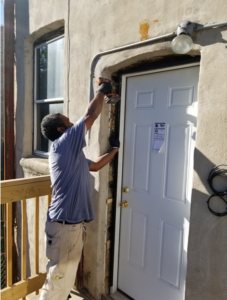 Prior to the pandemic, North Branch Works regularly completed jobs on thirty-three homes annually per our city contract.
Despite COVID-19, we have been working hard to finish as many jobs as possible because we know they make a major contribution to quality of life; we're on track to complete twenty homes this year.
North Branch Works is proud to be completing our tenth year of running the SARFS program. And we'd love to increase the number of jobs we can complete due to high demand in our neighborhoods.
Toward that end, we're actively looking for funding to expand the program.
With inquiries/questions about SARFS, please contact Misty LeBlanc, Program Manager, misty@northbranchworks.org:10033, 773-929-5552 x2235.