In April, the Chicago Plan Commission approved the rezoning of 1237 W. Division Street, allowing for the construction of the city and Midwest's first multi-story, modern logistics facility.
Proposed by Logistics Property Company, the project will include two floors totaling 252,700 square feet and up to 50,000 square feet of Class A office space on the former Peoples Gas property.
The development will generate incredible economic benefits including a significant $250 million overall investment, the creation of up to 800 high-caliber jobs, and between 750-1000 construction positions.
During a time of tremendous demand for industrial property, this facility can house multiple tenants.
North Branch Works (NBW) is thrilled the city's first two-story logistics facility will be built in our service area. We see the project as an innovative and complimentary land use to the nearby Planned Manufacturing District (PMD-3) on Goose Island.
Our letter to the Chicago Plan Commission highlights these points and others.
The roughly 11-acre site is in the North Branch Industrial Corridor; its boundaries are Division St. to the North, Elston Ave. to the east, the Metra tracks to the west, and Cortez Street to the south.
Plans for the building include accommodations for electric vehicles, public art on the frontages facing Elston Avenue and Division Street, loading docks on each floor, and bicycle parking.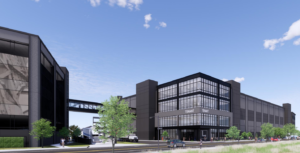 NBW looks forward to supporting the firms that move into the facility and connecting them to grants, city programs, and our members as they open operations in the North Branch.
We would like to congratulate Logistics Property Company on the approval of the project by the Chicago Plan Commission and thank Alderman Walter Burnett (27th Ward) for his support.
Stay tuned to our blog and social media for updates about this exciting project as it moves forward.
Image credits: Logistics Property Company, LLC