On Monday, June 13th, we joined Deputy Mayor Samir Mayekar for an engaging and informative tour of WaterSaver Faucet Company's manufacturing facility at 701 W. Erie Street.
We especially appreciate Deputy Mayor Mayekar (pictured, third from left) joining us as several major planned developments are coming to the North Branch. It's important to keep in mind the valuable contributions that existing businesses make to the city and ensure their continued success.
Located in the River North neighborhood, WaterSaver Faucet Company is the largest manufacturer of faucets, values, safety equipment, and related products for use in science laboratories.
A family-owned business, the company employs 160 people in high-quality, union jobs. Eighty percent of its workforce are Chicago residents, many of whom travel to this location from South and West Side neighborhoods.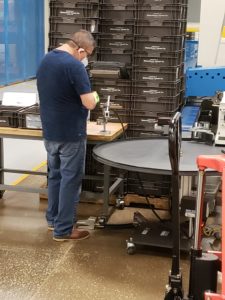 WaterSaver Faucet grew out of humble beginnings; in the early 1900s, founder Samuel Kerston Sr. launched a small plumbing contracting business in Chicago. After working for several years in the plumbing field, he developed a major interest in designing a new, higher quality faucet.
His faucet had two unique features: all of the working components of the faucet would be incorporated into a self-contained cartridge and the cartridge would have an adjustable orifice to control the flow of water through the valve.
The volume control device—the "Water Saver"—quickly became the company's namesake. Starting in the early 1950s, WaterSaver Faucet focused exclusively on manufacturing products for laboratory use.
Now run by the third generation, the company is a major supplier of faucets and related laboratory equipment world-wide including the Moderna, Pfizer, and Johnson & Johnson laboratories which developed COVID-19 vaccines. And the firm is well-positioned to support the expected growth of the life sciences sector in Chicago.
Manufacturing companies like WaterSaver Faucet add great value to the City of Chicago by providing high-quality jobs that support equitable neighborhoods, strengthening local economic development, and paying revenue to city and county governments.
North Branch Works would like to thank owner Steve Kerston (pictured above, second from left) for his service on our board of directors and the tour of WaterSaver Faucet Company.
We look forward to supporting WaterSaver Faucet Company's continued success as well as ensuring manufacturing has a bright future in Chicago.