Anchor Baby Vintage (4432 N Kedzie Avenue) in Chicago's Albany Park neighborhood is open for business and seeking vendors to sell in its newly renovated space.
A Latina-owned business, Anchor Baby Vintage sells a mix of vintage clothing ranging from the 1940s to the present. Owner Ada Garcia started the business due to her passion for creating her own path and leaving a legacy for her children.
Over the years, Anchor Baby Vintage has become a vibrant neighborhood destination that builds community. The company has brought Urban Markets Collective to Albany Park, which is now inside the shop, creating opportunities for other entrepreneurs to follow their passions.
Recently, North Branch Works was honored to partner with Garcia and Ald. Rossana Rodriguez (33rd Ward) and help the business secure a micro-grant from the city to make upgrades to its retail space to make room for 60 plus small businesses.
The improvements included moving a loft and ladder to allow more daylight to come into its location (pictured) and installing more lights, unique upcycled shelving through the space, security cameras and an integrated POS system allowing all participating vendors to keep track of their sales.
Because the grant Ada received from the City of Chicago is a reimbursable one, she applied to North Branch Works' low-interest Small Business Loan Fund.
We were able to make a loan in the full amount of Ada's grant, allowing her to hire a contractor and complete her improvement project immediately before the holiday season. As an added benefit, NBW staff is handling the reimbursement paperwork for Ada so she can concentrate on her business.
The project is a great example of how local businesses can benefit from our loan fund. As a mission-driven nonprofit lender, we want our funds to help companies grow and hire more Chicago residents.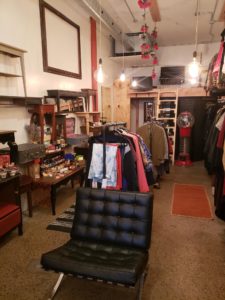 North Branch Works would like to recognize and thank Ald. Rossana Rodriguez and her Chief of Staff, Veronica Tirado-Mercado, for helping us navigate the City of Chicago's approval process.
Our members and supporters can help Anchor Baby Vintage by visiting and liking/following the business on Facebook and Instagram. The business is open from 12-6 p.m. Tuesday through Friday and from 11 a.m. to 5 p.m. on Saturdays.
Vendors with an interest in selling from the business can set up an appointment by contacting Ada via: anchorbabyvintage@gmail.com
Stay tuned for more information about Anchor Baby Vintage's grand opening in January.
Image credits: Anchor Baby Vintage