Chicago has a long and well-documented love affair with pizza.  And did you know that in recent years, the city has seen a surge in pizzerias opening, contributing to a diverse and thriving pizza scene?
For these reasons, we're excited to share the 2nd Annual Pizza City Fest will be held in our service area on Aug. 26-27 from 12-5 p.m. at The Salt Shed (1357 N. Elston Avenue). To purchase tickets, please go here.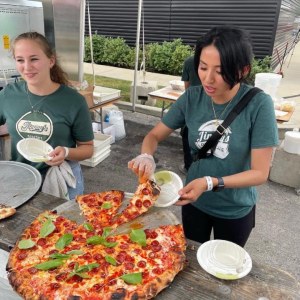 Ticket prices include 10 pizza slices from 20 different pizza vendors, unlimited drinks, sides, salads and desserts, as well as access to expert panels and demos, live music, and book signings.
This celebration of all-things pizza will showcase the dynamic craftmanship of forty small businesses. Participating pizzerias include:
Coming to Pizza City Fest is a great way to support small businesses and sample the wide range of pizza available across the Chicago region—all in one place.
It's exciting to think about finding new favorite pizza slices and developing a greater appreciation for neighborhood pizzerias. The program includes panels, seminars, demonstrations, and book signings in the theater.
Pizza City Fest is being organized by Amy Dordek Dolinsky and Steve Dolinsky, a 13-time, James Beard Award-winning reporter, currently "The Food Guy" at NBC 5 Chicago in partnership with 16 on Center and The Salt Shed.
Steve has made it his mission to dispel myths about Chicago pizza and to highlight the 10 different styles of pizza in Chicago as well as give back to the community.
Pizza enthusiasts can also book walking or coach tours featuring the region's best pizza places through Pizza City USA, a woman-owned small business.
And if you haven't already, attending Pizza City Fest is a great opportunity to experience The Salt Shed, an adaptive reuse of a former industrial building that now serves as a breath-taking events and live music venue with unparalleled views of downtown Chicago.
North Branch Works members and supporters can support Pizza City Fest by purchasing tickets and spreading the word about this wonderful upcoming festival.
Image credits: Steve Dolinsky