After serving as a Presbyterian pastor, Brent Raska decided to pursue his passion for craft beer and community building, taking him on a journey that resulted in the founding of Burning Bush Brewery. 
A family and dog-friendly establishment, Burning Bush Brewery is located at 4014 N. Rockwell Street in North Center in the 47th Ward.  
The brewery offers twelve of its own beers on tap, eight guest wines, guest hard ciders and seltzers, and a variety of non-alcoholic options.
The brewpub is named after a well-known passage in the Old Testament during which God speaks to Moses via a burning bush. 
Some of Burning Bush Brewery's most popular beers include Lion's Den Hazy IPA, New Chicago Translation pilsner, Smooth Serpent IPA, Broken Bread oatmeal stout and Red Sea raspberry kettle sour.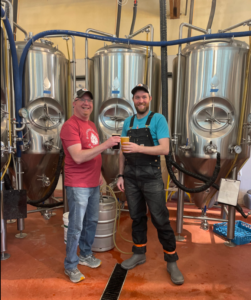 The name also reflects the major role that people of faith played in brewing history, which goes back centuries to when monks in Europe brewed their own beers.
Although the business has religious themes, Raska emphasizes that first and foremost that this is a gathering place for everyone in the Chicago and North Center community.  
Along with brewing high-quality craft beer, the business has a calling to give back to Chicago. Each year, a portion of its proceeds are donated to local nonprofits and charitable causes. 
The brewery also has a community room in the back of its taproom that is available free of charge for events such as community meetings and birthday parties.  
In addition to owning the company, Raska is the head brewer and oversees its on-site production.  
Burning Bush Brewery is a great example of how manufacturing has expanded from large companies to smaller scale neighborhood businesses. The company currently employs a workforce of fourteen people in high-quality jobs.  
Another important company value is sustainability. Indeed, the company's location is an innovative adaptive reuse of a former industrial site. They also have a trained pastry chef as part of their staff who turns the spent grains from brewing into cookies and dog treats.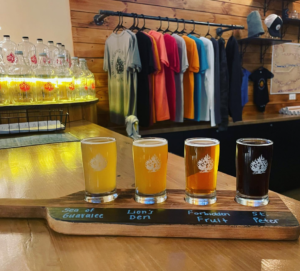 One of the main reasons Raska decided to locate in the North Branch is the area's history of manufacturing as well as the close proximity to the northern end of the 312 RiverRun Trail.  
It's easy to get to Burning Bush Brewery on bike or foot by taking the riverside underpass below Irving Park Road and then a trail in Horner Park south to the Irving Park Road Bridge. Then you can walk or bike east across the bridge to Rockwell Street and turn left.  
If you joined us for Bike the North Branch in July, you may remember our bike tour ended at Burning Bush Brewery with pizza in its back patio overlooking the Chicago River.  
North Branch Works members and supporters can help Burning Bush Brewery by visiting and helping spread the word. You can subscribe to the brewery newsletter via burningbushbrewery.com and like/follow the business on Facebook and Instagram. 
We are thrilled to welcome Burning Bush Brewery as a new member business. Our staff looks forward to helping the business grow by connecting it to grants, city programs, and to our member businesses.   
With questions and to network with Burning Bush Brewery, please reach out to: info@burningbushbrewery.com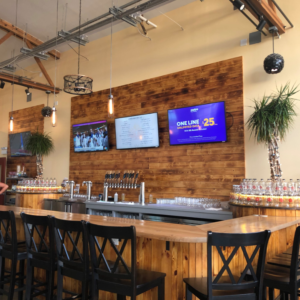 Image credits: Burning Bush Brewery