Join our friends at a. favorite design (4432 N. Kedzie Avenue) in Albany Park for Stationery Store Day (SSD) on August 5th from 10 a.m. to 5 p.m. The shop will celebrate all things stationery.
The party features letterpress demonstrations with a press set up for you to print. That's right; you can pull a print on the company's antique press.
In between hands-on activities, stationery-themed refreshments will be available, and you can enter several raffles for prizes, including a super cute Stationery Store Day t-shirt (unisex size L).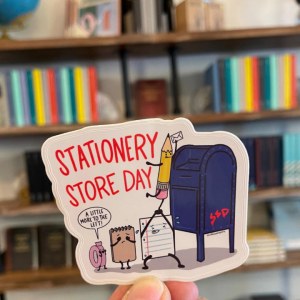 Other exciting promotions include a gift with every purchase, a free tote with a $50 purchase, and a free tote filled with stickers and a roll of SSD washi tape with a $100+ purchase while supplies last.
And don't miss the opportunity to purchase official Stationery Store Day 2023 merchandise, including die cut sticker sheets, two different washi tape designs and totes, all available while supplies last.
It's a great opportunity to support a small, woman-owned manufacturing business and purchase creative and heartfelt products.
a. favorite design was created in 2005 by graphic designer turned letterpress artist, Amber Favorite. She has always had a passion for design, typography, and the community.
All a. favorite design goods are handmade by its small and caring staff. North Branch Works was honored to stop at a. favorite design during our summer bike tour on July 29th.
Our members and supporters can help a. favorite design by attending Stationery Store Day on Aug. 5th and spreading the word about this incredible event and small business.
Image credits: a. favorite design