Will the City of Chicago roll the dice on a North Branch casino at Chicago Avenue and Halsted Street?
That's a major question facing industrial businesses operating near the site, a finalist in the quest to build and run Chicago's first casino.
Proposed by Bally's Corporation, the project represents a $1.74 billion investment in North Branch.  The proposal includes a 3,000-seat theater, and a 500-room hotel. It's expected the casino would create 2,000 permanent high-quality jobs and 3,000 construction positions.
We're pleased that Bally's Corporation would use a high percentage of minority-owned construction firms (36%) and women-owned companies (10%).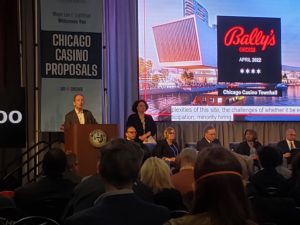 If the city selects Bally's as the winning bid, the company would build a temporary casino by the summer of 2023 in the former Chicago Tribune warehouse. The plan for this facility includes 500 slots and table games as well as 2-3 food and beverage venues.
The permanent project features a 70,000 sq. foot entertainment venue and a 20,000 sq. foot exhibition space and adds amenities such as 2,100 feet of a continuous river trail, public parks, restaurants, and a water taxi stop.
Some of the important industrial businesses operating near Chicago and Halsted include WaterSaver Faucet Company, Bigane Paving Company, and Prairie Material. Also, the proposed site is within close proximity to Onni Group's Halsted Pointe project, which is located at the former Greyhound bus service station (908 N. Halsted St.)
North Branch Works staff attended the public meeting (pictured above right) held at the Chicago Tribune printing facility by the City of Chicago and Bally's on April 6th.
Some of the concerns discussed during this dialogue included necessary upgrades to public infrastructure and public transportation service, traffic congestion, and potential impacts on industrial businesses.
Prior to the April 6th forum, North Branch Works facilitated a listening session for our members with representatives from Bally's at MxD (pictured below left: NBW Executive Director Jonathan Snyder speaking).
Our members asked questions, shared input, and made important connections with Bally's team. To see the slides from this meeting, please go here.
The City of Chicago is expected to select the winning bid by this summer.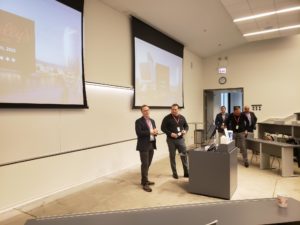 We'd like to thank MxD for hosting our recent member session and Bally's Corporation for meeting with our members and our staff.
North Branch Works continues to evaluate this proposal and will take a public position. Stay tuned to our blog and social media for more updates about the casino competition.
The City of Chicago is accepting questions and comments about the casino proposals. You can weigh in by emailing chicagocasino@cityofchicago.org.
With input about the proposed casino and for information about joining North Branch Works as a member, please contact Steve Simmons at 773-929-5552 x2226 or steve@northbranchworks.org:10033.