Nearly 100 people attended North Branch Works' Fall Fest on Oct. 19th in Sterling Bay's modern, state-of the-art life sciences building at 1229 W. Concord Place.  
Our biggest party and fundraiser of the year included dynamic remarks from Ald. Scott Waguespack (32nd Ward) and BACP Commissioner Ken Meyer (see below right). 
During our short program, we recognized three people with awards. Grandmaster Kwang Hyun (pictured above) received our first-ever Small Business of the Year Award.  
He is the owner of Hyun's Hapkido and Taekwondo School and the mixed-use commercial building at the six-corner intersection of Western, Elston, and Diversey Avenues. 
This award was created to recognize a business owner who has gone beyond in making the North Branch a great place to work and own a business. 
For fifty-two years, Grandmaster Hyun has operated his school at 2743 N. Western Avenue which has become an important neighborhood destination where people come together for cultural exchanges and to build community.  
Last year, Grandmaster Hyun played a major role in helping someone achieve her dream of becoming a first-time business owner in the North Branch.  
We recognized Bigane Paving Company with our inaugural Industrial Business of the Year Award. Anne Wilson has led the company since 1985.  
A fourth-generation, family-owned business, Bigane Paving has paved over 1,500 miles of streets; some of its high-profile projects include paving the 606/Bloomingdale Trail as well as resurfacing the North Avenue bridge.  
In 2018, Bigane Paving won the Chicago Department of Transportation's Contractor of the Year Award for resurfacing DuSable Lakeshore Drive between Grand Avenue and Monroe Drive.  
Our program concluded with Bob Doepel, Chairman, of Chicago Scenic Studios and NBW Board Member, receiving the 2nd Annual Donna Ducharme Leadership Award for Outstanding Service to the North Branch Community.  
We'd like to thank the local businesses that generously donated items to our silent auction. They include Ozinga, Judson & Moore Distillery, Metropolis Coffee, The Hideout, Brothers Restaurant, Prairie Materials, The Alley Chicago, Boulevard Bistro, and Horween Leather Company.  
We're grateful for our sponsors: WaterSaver Faucet Company, Bally's Casino, Bigane Paving Company, Logistics Property Company, R2, Onni Group, Sipi Metals, Sterling Bay, Bucksbaum Properties, and Metropolitan Brewing.  
To our members and supporters, thank you for a wonderful Fall Fest. Stay tuned for more events that bring the North Branch community together in 2024.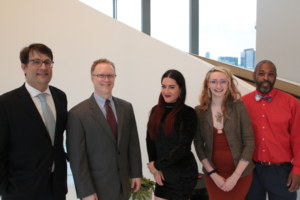 Image credits: David Gustafson