After overcoming a fear of cycling, Elsbeth Cool (pictured above) purchased her first cargo bike as an adult, taking a leap that ultimately inspired her to launch a small business selling cargo bikes.
Now, as the owner of Four Star Family Cyclery, she gets to help customers and their families experience the many benefits of choosing to bike for everyday transportation.
A woman-owned, family business in Avondale, Four Star Family Cyclery specializes in selling cargo, family, and electric-assist bikes. And you can also stop in to rent a bike and for bike accessories, including helmets, locks, and general repairs like having a flat fixed.
And if you haven't heard of cargo bikes, they are bikes that have been adapted so they can carry heavy and bulky loads, including passengers like children. They vary by design and come in two, three, or four-wheel forms and with or without electric assistance.
Four Star Family Cyclery opened its doors in 2016, operating in a 700 sq. foot space on Western Avenue. Because few bike shops in Chicago would carry cargo bikes at the time, Elsbeth courageously started on a small scale.
Once the business succeeded, it needed a larger space. Elsbeth desired a location in a family-friendly neighborhood with walkable streets. As it happened, Four Star Family Cyclery moved to its current location, (3101 W. Diversey Ave. see below), which is in front of the CTA's #76 Diversey Bus stop at Albany St., right before the onset of COVID-19.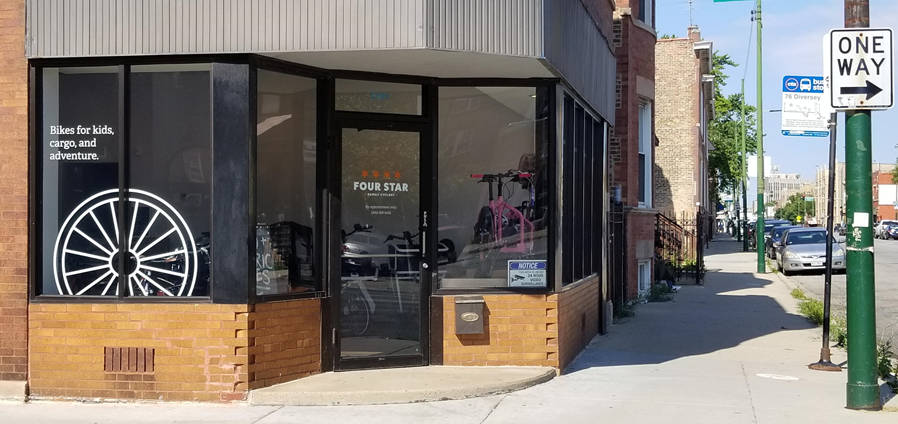 Although the pandemic created uncertainty before peak bicycling season in Chicago, the good news is the company has been extremely busy keeping up with strong demand. And by encouraging a healthy, sustainable and socially-distant way of getting around, the business is making a major contribution to the city as the local economy recovers.
Four Star Family Cyclery is committed to providing customers with high-quality, individualized attention. That's the primary reason new customers are asked to sign up for hourly appointments at no cost, which you can do here.
If you sign up for an appointment, you'll receive an hour to talk about bikes with Elsbeth as well as the opportunity to do test rides on scenic Logan Boulevard.
There's nothing Elsbeth and her team enjoy more than helping people who haven't biked in years gain the confidence necessary to become year-round cyclists. It's common for the team to hear customers love their cargo bikes so much they ride them frequently and often sell their cars.
And Four Star Family Cyclery is exactly the type of sustainable business that North Branch Works is working hard to support through our advocacy for policies that create a business-friendly climate and by connecting local businesses to each other for mutually beneficial economic development.
If you'd like to explore the variety of cargo bikes, need bike accessories, or have questions about biking, please contact Elsbeth at elsbeth@fourstarfamilycyclery.com, 224-358-5455.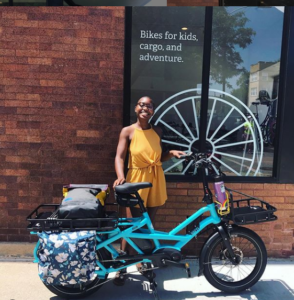 Image credits: Four Star Family Cyclery