Hyun's Hapkido & Taekwondo School (2743 N. Western Avenue) is one of 60 Asian American and Pacific Islander (AAPI)-owned businesses selected to win a $25,000 grant from the National Asian/Pacific Islander Chamber of Commerce (National Ace) and Reimagine Main Street.
North Branch Works staff identified this grant opportunity and partnered closely with the owner, Grandmaster Kwang Seek Hyun (pictured below right), on his application. It's a great example of how we can help small neighborhood businesses in our network grow and expand.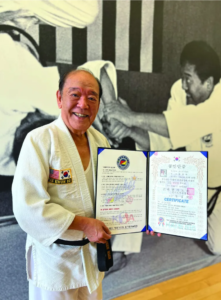 After immigrating to the United States from South Korea in 1969, Hyun founded the school at the corner of Diversey and Western Avenues in Logan Square where it has flourished for over fifty years.
Prior to coming to the U.S., Hyun studied music at the Seoul National University and served in the Republic of Korea Air Force.
The school offers martial arts classes, including hapkido and taekwondo, to people ranging from 5-70+ years old. Over the years, the business has become an important neighborhood destination that brings people together for cultural exchanges and builds community.
Grandmaster Hyun has trained over 12,000 students, including 9,000 law enforcement officers from the Chicago Police Department and Cook County Sheriff's Office.
He holds a tenth-degree black belt in hapkido, a Korean martial art specifically designed for self-defense.
Because martial arts classes must be taught in-person, Hyun had no option but to close the school for four months during the pandemic. Fortunately, business has started to come back this year.
North Branch Works is honored to have the school as a member business. We first connected with Grandmaster Hyun when promoting the City of Chicago's Small Business Improvement Fund in the Addison South TIF District.
SBIF is an incredible program that provides businesses located in TIF Districts with reimbursable grants for building improvements.
The SBIF grant he received will help cover some of the costs of essential building upgrades at 2743-53 N. Western Avenue where until recently Cornerstone Café operated for seventeen years.
After helping the business secure a SBIF grant, we connected Grandmaster Hyun with additional opportunities. The AAPI-grant will help him hire part-time instructors and promote the school's martial arts courses to a wider audience.
North Branch Works members and supporters can help the school by spreading the word and taking martial arts classes, which you can do by signing up for a trial lesson here or by calling 773-252-8300.
We'd like to congratulate Grandmaster Hyun on this well-deserved recognition from National Ace and Reimagine Main Street and thank him for running a vibrant business that has strengthened the North Branch community for over fifty years.
To learn more about National Ace and Reimagine Main Street, please see our press release about the AAPI grant award.
To see the full list of AAPI-grant winners, please go here.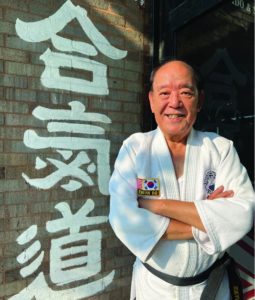 Image credit: Chicago Reader