Last week, KOVAL Distillery announced the opening of its much-anticipated tasting room and patio.
These modern spaces offer a dynamic experience for craft spirit enthusiasts, adding to KOVAL's incredible lineup of tours, classes, events, and store.
Located inside KOVAL's distillery at 4241 N. Ravenswood Avenue, the tasting room (pictured above) reflects a combination of the co-founders' Central European heritage and partnerships with Chicago-area makers.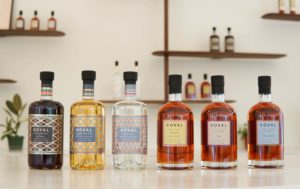 The menu features a mix of classic cocktails and imaginative originals such as KOVAL Bourbon, Dry Gin, liqueurs, fruit brandies, and limited edition releases.
KOVAL only uses the "heart cut of the distillate," making its products stand out due their clean taste.
Along with cocktails, a variety of perfect pairs (KOVAL spirits combined with bite-sized treats), flights, light food, and international coffee drinks will be available. To see a full menu, please go here.
The opening of KOVAL's tasting room (see bar below right) is another major accomplishment for the business whose co-founders, Dr. Robert Birnecker and Dr. Sonat Birnecker Hart, overcame significant hurdles when starting the company in 2008.
KOVAL is a great example of how manufacturing has pivoted from large companies to smaller neighborhood businesses that provide high-quality jobs without requiring advanced degrees.
The company's continued growth and success highlights the valuable role that manufacturing plays in Chicago. It's timely that KOVAL's tasting room and patio opened during Manufacturing Month.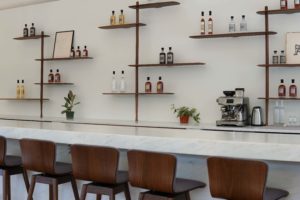 North Branch Works is proud to advocate for policies and programs that strengthen local manufacturers like KOVAL.
Our members and supporters can help KOVAL by visiting the new tasting room, suggesting venues carry KOVAL products if they don't already, and purchasing its products.
To participate in on-site activities, KOVAL requires all visitors to be vaccinated and masked.
KOVAL's tasting room is open Tuesday-Friday from 5-10 p.m. and Saturday-Sunday from 12-10 p.m. The adjoining patio (see below) will be open for seating as long as the Chicago weather allows.
To learn more about KOVAL Distillery and its co-founders, please see this member profile.
North Branch Works would like to recognize Dr. Sonat Birnecker Hart for her dedicated service on our Board of Directors.
With questions and to connect with KOVAL, please reach out to: info@koval-distillery.com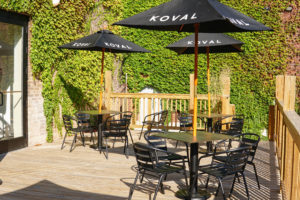 Image credits: KOVAL Distillery