UPDATE: If you missed our mayoral forum on Feb. 8th, you can watch the video here.
Appearing before a sold-out audience at MxD, five of the nine mayoral candidates present voiced strong support for industry and manufacturing in Chicago.
Given that manufacturing represents 11% of Chicago's GDP and the Chicagoland region has over 50,000 unfilled jobs in manufacturing, it was encouraging to hear broad support for making these important sectors a priority.
If elected Mayor, each of the candidates promised to create a high-level position in their administrations to oversee the growth of the industrial and manufacturing sectors.
A commitment to filling the open jobs in manufacturing in the region would have a direct economic impact of $4.25 billion on our local economy.
North Branch Works co-hosted the mayoral candidate forum, "A New Industrial Vision for Chicago," with the University of Illinois-Chicago's Great Cities Institute, Manufacturing Renaissance, and MxD.
Teresa Córdova (pictured below right), Director of the UIC's Great Cities Institute (GCI) and former Chair of the Chicago Plan Commission, presented important context for the event.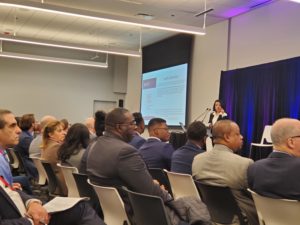 She shared data that showed the strong history of manufacturing in Chicago and the devastating impact of the loss of these high-quality, family sustaining jobs on Chicago neighborhoods.
GCI's research on out-of-work and out-of-school youth strengthened her compelling remarks.
The following candidates responded to questions from moderator, Juan González, co-host of Democracy Now! and a Senior Fellow at the Great Cities Institute.
State Rep. Kam Buckner (26th District)
Ja'Mal Green, neighborhood advocate and entrepreneur
Cook County Commissioner Brandon Johnson (1st District)
Ald. Roderick Sawyer (6th Ward)
Paul Vallas, former Chief Executive Officer of Chicago Public Schools
Mayor Lori Lightfoot, Congressman Jesús "Chuy" García, Ald. Sophia King (4th Ward) and Dr. Willie Wilson were invited; unfortunately, they were unable to attend.
Industrial jobs pay on average $85,000 including benefits. Industrial and manufacturing firms are important community and wealth-building anchors. Every job in manufacturing induces the creation of six jobs.
Jonathan Snyder, executive director of North Branch Works, says the strong turnout shows a hunger for policies that support industry and manufacturing. "Recent scholarship has shown that growing these important sectors generates many benefits for cities including improved public safety, equitable neighborhoods, and vibrant local economies."
Image credits: Crispina Ojeda Simmons