The Minority Business Development Agency (MBDA) Export Center is a dynamic resource that builds mutually beneficial partnerships between minority businesses and thriving markets in Africa.
Because 95% of consumers are located outside of the United States, international markets offer incredible opportunities for minority businesses and entrepreneurs. And by 2025, Africa is projected to have 1.4 billion consumers with an average age of 30.
Funded by the U.S. Department of Commerce and operated by the Chicago MSDC, the MBDA Export Center connects minority businesses with commercial and government buyers, financing and bonding resources, and domestic and global teaming partners.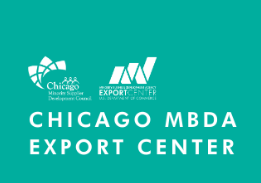 And if you are a minority business, you can access technical assistance across a variety of important business topics such as identifying new global markets, export referral services, export capital, and risk insurance.
Some of the countries you can connect with through the MBDA Export Center include Gabon, South Africa, Zambia, Ethiopia, and Nigeria.
Prior to the pandemic, you could visit the MBDA Export Center at 216 W Jackson Blvd. Suite 600. Currently, the Export Center has pivoted to making all of its programming available virtually.
Speaking of which, the MBDA Export Center just wrapped up a major virtual conference, the 2020 Diaspora Investment and Trade Deal Event (see below right), which connected minority businesses with opportunities to engage with and learn from businesses and government officials from Africa and the African Diaspora.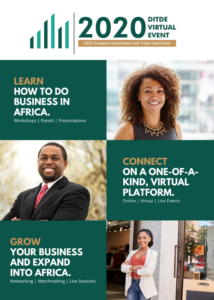 Over the course of its five-year history, the Chicago MBDA Export Center has served over a thousand firms, providing business counseling and important connections to major-buying organizations in Africa.
And it's an especially important time to make these connections: U.S. trade to and from Africa has tripled over the last decade; U.S. exports to sub-Saharan Africa now top $21 billion and sub-Saharan Africa is expected to grow 7% GDP annually.
For these reasons and many others, Chicago is fortunate to be home to the MBDA Export Center. It's one of only four centers funded by the MBDA across the country with the mission of ensuring minority businesses have access to resources that help them compete in local and global markets.
And the Chicago MSDC and MBDA Export Center recently launched the Pathways to Africa Initiative, which is designed to promote American companies doing business in Africa.
The MBDA Export Center is a wonderful resource that compliments Chicago MSDC's work to certify, develop and advocate for minority-owned businesses as well as the comprehensive services offered by the MBDA Business Center.
For the latest updates, be sure to follow the MBDA Export Center on LinkedIn, Facebook, and Twitter.
North Branch Works is proud to partner with the Chicago MSDC, MBDA Business Center, and MBDA Export Center in our work to grow, develop, and support minority businesses in our service area.
To connect with the MBDA Export Center, please contact Patricia Hanes, Director Export Center, 312-755-2553, phanes@chicagombdaexportcenter.com