Take a boat tour of the North Branch with us on June 1st from 5-7 p.m. To sign up, please go here.
Our networking event will depart from the Wendella Boats' dock on Goose Island (1535 N. Cherry Avenue) promptly at 5 p.m.
We recommend arriving at 4:30 p.m. so you have plenty of time to check in and board the vessel.
The roughly two-hour cruise will cover most of our service area. It's a great opportunity to see businesses, development projects, and neighborhood destinations from a new perspective.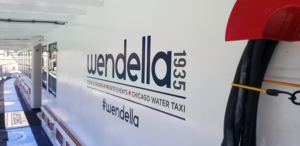 During the tour, we'll go as far north as Lathrop Homes and get an up-close look at Ozinga's plant, Horween Leather Company, and The ALLY at 1229 W. Concord.
The southern portion of the tour will take us by Onni Group's Halsted Pointe development, Bally Corporation's Chicago casino site, Prairie Material's operations, and Water Saver Faucet Company.
It will be an an evening of fun, networking, sightseeing, and mouth-watering food and drinks. The event will end at 7 p.m.
North Branch Works would like to thank Wendella Boats for sponsoring the event. Additional sponsorship opportunities are available.
To inquire about sponsorship, please contact Jonathan Snyder, Executive Director, at 773-929-5552 or jonathan@northbranchworks.org:10033
Image credit: Wendella Boats