The viability of Chicago's industrial and commercial corridors relies upon people having safe and easy access to them regardless of how they choose to travel to, from, and within these important areas.
North Branch Works is deeply saddened by the tragic passing of Kevin Clark in a crash while riding his bike at Logan Boulevard and Western Avenue, a notoriously dangerous intersection in our service area for all transportation users.
We stand with Logan Square Neighborhood Association, Active Transportation Alliance, and Kevin Clark's family and friends in calling on our elected officials to build safety improvements immediately at Logan and Western.
It's clear that the intersection of Logan and Western is broken and has been neglected for far too long. We can't wait any longer for safety upgrades that will save lives and strengthen neighborhoods and local businesses.
The commercial area on Logan Boulevard east of Western Avenue is a vibrant economic hub with people frequently traveling to and from it for work and to purchase goods and services.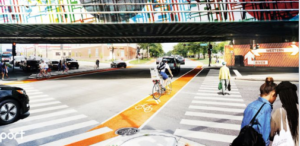 In 2018, the Active Transportation Alliance worked with Logan Square Neighborhood Association to develop a variety of community-informed recommendations to improve the intersection (see image right), including adding a protected bike lane, improving lighting and the timing of traffic signals, and installing a new crosswalk on the south side of Logan across Western.
If you live in Chicago, please take a moment to sign this petition calling on Mayor Lightfoot and your alderman to fix Logan and Western and make streets safer for biking across the city.
The family of Kevin Clark, Active Transportation Alliance, and Chicago Ride of Silence will hold a vigil and press conference on Saturday, June 12th at 10 a.m. at the Logan Square Monument.
If you plan to attend, please RSVP to the Facebook event.
Image credits: Active Transportation Alliance and Port Urbanism