Join us on Saturday, Sept. 25th for a fun and informative kayak tour of the North Branch from 9-11:30 a.m.
Along the way, we'll visit local businesses, area destinations, and enjoy the sights and sounds of the Chicago River. The length of the tour is approximately seven miles.
At each stop, our partners will talk about their businesses and provide updates about their development projects that will have a major impact on the North Branch area in the coming years.
To sign up for the kayak tour with North Branch Works and Waterider Kayaks, please go here.
After meeting at Rockwell on the River, we'll hear from Friends of the Chicago River about its important work to improve water quality and the natural habitat.
Then we'll leave from the docks at Rockwell on the River and visit Lathrop Homes, Lincoln Yards, the Wild Mile Chicago (see below right), and REI Lincoln Park.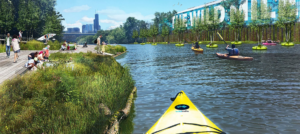 Following our stop at REI Lincoln Park, we'll paddle back to Rockwell on the River where the tour will wrap up.
And everyone is welcome to join us at Metropolitan Brewing (see below left) for drinks after the tour. Proof of COVID-19 vaccination is required to enter Metropolitan Brewing.
North Branch Works is excited to partner with Wateriders Kayaks, a small family-owned business in our service area on the tour. The owner, Charlie, will serve as our guide.
We hope you can join us for the kayak tour on September 25th.
Proceeds support Wateriders Kayaks and North Branch Works' neighborhood economic development work.
With questions, please contact Steve Simmons at 773-929-5552 x2226 or steve@northbranchworks.org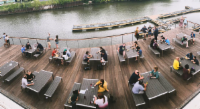 Image credits: REI Lincoln Park (top), Skidmore, Owings, & Merrill (middle) & Metropolitan Brewing (bottom)