Nearly twenty people joined us in late September for our first-ever kayak tour that featured dynamic businesses and development projects in our service area.
We met at Rockwell on the River (pictured below right), an incredible food and events space in Avondale along the North Branch of the Chicago River.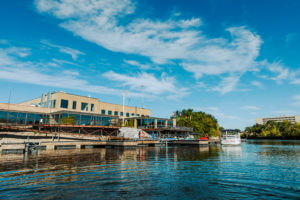 Well-known as the home of Metropolitan Brewing and Metropolis Coffee, the campus also includes a dock where you can hop in an electric boat or kayak and escape into the natural habitat.
North Branch Works was honored to partner with a small business, Wateriders Kayaks. The owner, Charlie Portis, gave us a quick lesson on how to paddle. The business prides itself in being able to serve people of all ages and abilities.
After departing from Rockwell on the River, the first stop was the dock at Lathrop Homes (pictured above), which is located just north of Diversey Avenue on the Chicago River.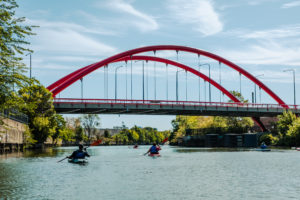 Formerly the largest public housing complex on the North Side, Lathrop has been converted into mixed-income housing by developer Related Midwest.
During our time at Lathrop, a representative from Related Midwest discussed recently built riverfront improvements including a new trail, landscaping, benches, trees, and a boat and kayak launch.
The trail runs for half a mile north and south of Diversey Avenue. If you follow it south of Diversey, it curves out into the river, offering spectacular views of downtown before its terminus at Leavitt Street.
Following this stop, we paddled south to 1229 W Concord Place where developer Sterling Bay will soon break ground on the first building in Lincoln Yards, a structure designed for life sciences companies called ALLY at 1229 W. Concord.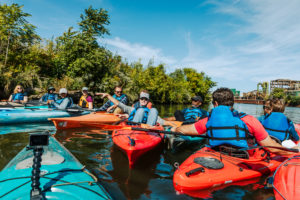 While we floated in the Chicago River, a spokesperson from Sterling Bay (pictured right) talked about plans to improve public infrastructure in the area and a general timeline for the entire project, which is expected to span ten years.
Then we kayaked south past North Avenue to visit the Wild Mile Chicago, a seventeen-acre floating park in the North Branch Canal.
The Wild Mile (pictured below left) will run in-stream from North Avenue to Chicago Avenue directly behind Whole Foods and REI Lincoln Park.
During the tour, a representative from Urban Rivers talked about the next step in the project, which involves installing a walkway, and volunteer opportunities.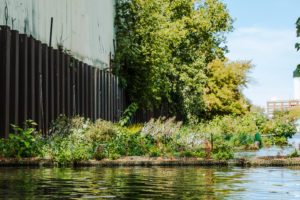 For group and corporate volunteering opportunities at the Wild Mile, please contact Nick Wesley at 708-606-0637 or nick@urbanriv.org.
North Branch Works would like to thank everyone who joined us for the kayak tour. We'd also like to recognize our partners who came along and discussed their businesses and development projects.
They include Friends of the Chicago River, Rockwell on the River, Wateriders Kayaks, Chicago Minority Supplier Development Council, Related Midwest, Sterling Bay, and Urban Rivers.
Stay tuned for more opportunities to explore local businesses and destinations in our service area.
Image credits: Kevin Hartmann, Sterling Bay