Thanks to a generous grant from the Illinois Treasurer, our popular Small Accessible Repairs for Seniors (SARFS) program will grow in 2021, allowing us to have a greater impact on quality of life in Chicago.
Funded primarily by the Chicago Department of Housing, SARFS is a free, home-repair program for eligible seniors. To qualify for SARFS, you must be at least 60 years old and meet the U.S. Dept. of Housing and Urban Development's income guidelines, which is an income not greater than $58,250 for two people.
SARFS covers the cost of repairing and installing safety equipment, security improvements, and other items that make it easier to live at home. We can fix and/or install fire extinguishers as well as smoke and carbon monoxide detectors.
And we can make improvements to floors, steps, and doors. The program also pays for accessibility upgrades such as grab bars (pictured above Field Manager Reggie Hamilton installing a grab bar), transfer benches, tub-assist bars, chair-height toilets, faucets, handrails, and handheld showers.
North Branch Works is one of several city delegate agencies that offer the program. We can work with you if you live in one of the following city wards: 1, 2, 24, 26, 27, 28, 29, 30, 31, 32, 33, 35, and 37.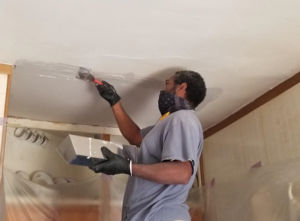 We just finished our tenth year of running the program, completing fourteen jobs despite the challenges of operating during the pandemic (pictured right Field Manager Reggie Hamilton sealing a ceiling). Indeed, the pandemic created an urgency to complete jobs as soon as we could, knowing how much our clients needed to be able to live comfortably at home.
Under more typical circumstances, our dedicated SARFS team regularly completes thirty-three high-quality jobs.
As we enter 2021, the good news is we have nineteen jobs that are shovel ready pending approval from the City of Chicago.
Because of the recent grant we received, our Field Manager will move from seasonal to full-time status, allowing us to hit the ground running as well as the flexibility to do more in-depth home repairs, an increased number of smaller jobs, and/or some combination of both.
Our goal for the 2021 program year is to complete thirty-three jobs. Currently, we're recruiting eligible residents and qualifying them for our waiting list, which will move quickly when the city begins issuing approvals.
Please help us reach more Chicagoans by spreading the word about the program and encouraging them to contact us.
With questions/referrals, please contact Misty LeBlanc (pictured below left), Program Manager, misty@northbranchworks.org:10033, 773-929-5552 x2235.