Mayor Lori Lightfoot and the Chicago Department of Planning & Development awarded community development grants today to 133 recipients including Soul & Smoke (3057 N. Rockwell Street) and The Alley (2620 W. Fletcher Street).
An award-winning Black-owned, and woman-led, barbeque restaurant, Soul & Smoke will receive a $500,000 grant to convert its pop-up space at Rockwell on the River into a full restaurant.
These funds will be used for leasehold improvements such as building a full kitchen enclosure, setting up kitchen hoods, installing a wood smoker and exhaust, building a bar, constructing a pergola, and adding fire pits and an audio-visual system.
The added capacity will enable Soul & Smoke to host private events for up to 50 people and provide small-or-large scale off-site catering.
Just as important, this grant positions Soul & Smoke to have an expanded and permanent presence at Rockwell on the River and be part of the long-term fabric of the North Branch.
The Alley received a small grant to develop three storefronts on Fletcher Street, which will serve as an incubator known as the Art Colony Retail Business Incubator.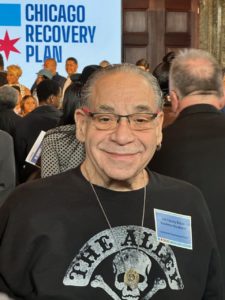 One of The Alley's sister businesses, The Art Colony, already provides space to artists passionate about honing their craft.
As these artists develop their talents, they will have access to the three storefronts at a low-cost, mentorship from owner Mark Thomas (pictured right), and support from the thriving creative maker community in Avondale.
Once these businesses mature, the goal is to place them in permanent spaces near Milwaukee and Belmont Avenues as part of a broader neighborhood revitalization effort.
The Alley has operated for forty-seven years and specializes in designing and selling counter-culture leather, footwear, jewelry, belt buckles, and t-shirts. The business has a long history of being a safe and accepting environment for people of all backgrounds and lifestyle orientations.
North Branch Works staff partnered closely with Mark Thomas on The Alley's application. It's a great example of the technical support that we regularly provide to our member businesses and the benefits that come with NBW membership.
The City of Chicago received 570 grant applications and awarded a total of $54 million this round.
We'd like to congratulate Soul & Smoke and The Alley on receiving these grants and thank the Chicago Department of Planning and Development for investing in North Branch businesses.
Stay tuned for more business grant opportunities as we work to attract dollars to our service area that allow companies to grow and hire more Chicago residents in high-quality jobs.
Image credits: Eater Chicago (top) and The Alley