A woman-owned, family-and-dog friendly business, Metropolitan Brewing has delighted customers with German-style lagers since opening in 2009.
Initially located in the Ravenswood neighborhood, the brewery quickly outgrew its space, leading its owners, Tracy Hurst and Doug Hurst, on a search for industrial property that could accommodate their manufacturing equipment.
Nearly four years ago, Metropolitan Brewing moved into Rockwell on the River located at 3057 N. Rockwell Street in Avondale. Rockwell on the River is a former tannery that has been converted into a dynamic food-and-events space.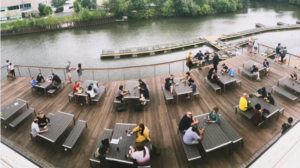 It's a great example of an adaptive reuse of a former industrial building that supports manufacturing and small businesses.
Metropolitan Brewing's tap room and patio offer breathtaking views of the North Branch of the Chicago River.  Indeed, sustainability has always been important to Tracy and Doug; they jumped at the chance to manufacture and sell their products in the presence of the Chicago River's natural habitat.
Take a behind-the-scenes tour of Metropolitan Brewing by viewing this video.
Like many small businesses during the lingering pandemic, Metropolitan Brewing has faced its share of financial challenges. The company has made pivots such as canning their beers, adding tap room programming, and offering customers the chance to rent tap room tables.
Currently, the brewery holds a BINGO night on Wednesdays as well as karaoke on Thursdays.
One of the best ways you can support Metropolitan Brewing is to host your office party in the brewery's tap room. The company offers reasonable rental rates for gatherings that can be held during and after business hours. With inquiries and to make reservations, please email: aja@metrobrewing.com
And if you visit the taproom and/or host a holiday party there, you can take comfort knowing the business requires proof of COVID-19 vaccination and its patrons to wear masks when they are moving about the space.
Along with producing a dynamic product, Metropolitan Brewing is civic-minded and deeply committed to improving the North Branch community. The company regularly makes donations in support of mutual aid, mental health, and LBGTQ causes.
At the beginning of COVID-19, Metropolitan Brewing donated beer to KOVAL Distillery, which used it to make hand sanitizer for nursing homes, first responders, health care workers, and nonprofits.
North Branch Works members and supporters can help Metropolitan Brewing by visiting the taproom regularly, hosting events there, and purchasing its beer and eye-catching merchandise.
As the pandemic continues, it's incredibly important to support small businesses so they can survive and continue to employ Chicago residents. As Tracy mentions in the video (link above), a purchase of $50 at a small business can have a major impact.
To learn more about Metropolitan Brewing, check out its website and follow the company on Facebook, Twitter, and Instagram.
Image credits: Metropolitan Brewing