Where can you find a wooden door, the spine of a dead coyote, a vintage soda bottle, bedroom slippers, half a Nicholas Cage DVD, a troll doll, chicken wire, a rubber duck, and an exit sign?
All these items and more were found along our rivers at the last Chicago River Day, Friends of the Chicago River's yearly watershed-wide litter cleanup. As you know, litter does not naturally occur along our riverbanks, but it does harm wildlife, detract from the beauty of our communities and perpetuates the outdated notion that the Chicago and Calumet Rivers remain severely polluted.
That's why every year we roll up our sleeves to clean up the Chicago-Calumet river system.
Last year's 30th Annual Chicago River Day was a huge success with a record-breaking 77 site locations and over 2,000 volunteers. It's wonderful to see so many volunteers spend time outside with friends and family, building community around their local waterways, and learning about the harm litter causes to their neighborhood, wildlife, and water quality. Everyone working together to create a Litter Free Chicago and Calumet River System for future generations.
An event of this size takes an immense amount of time, planning, coordination, and resources. To make sure it is accessible and free to anyone who wants to participate, we depend on the vision and generosity of sponsors who understand the importance of the river system as a natural resource to our community.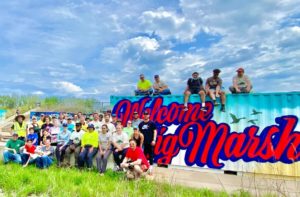 The next Chicago River Day is set for Saturday, May 13, 2013, from 9 a.m. to noon. Friends invites you to show your support for this cherished community event and help us ensure all volunteers have the supplies needed for a safe and successful cleanup.
Sponsoring this event comes with a host of benefits including tickets to upcoming events, digital and print exposure, opportunities to engage employees via a free admission week at the McCormick Chicago River & Bridgehouse Museum or advanced registration at a designated Chicago River Day site, and of course, the knowledge that your contribution makes an immediate, tangible difference throughout the 156-mile Chicago-Calumet River system.
The higher your sponsorship level, the greater impact that you will have on this important community stewardship day. Please reach out by March 15th to ensure you can maximize your benefits.
More information about Chicago River Day sponsorship thank you benefits is available here.
If you have questions or to sign up for sponsorship, please contact Becky Lyons, director of environment, equity, and engagement, at 312-939-0490 x23 or blyons@chicagoriver.org
We look forward to seeing you on the river this spring!
NBW is proud to have a long history of leading a Chicago River Day Cleanup on Goose Island and partnership with Friends. We will take another group out on May 13th and hope you can join us.
This is a guest post by Annette Anderson,  Volunteer, Events, and Canoe Program Manager, Friends of the Chicago River.
Image credits: Friends of the Chicago River