Developer Sterling Bay officially broke ground today on the first building in the Lincoln Yards mega-development, an eight-story building that will provide 280,000 square feet of lab space for medical research firms.
Known as the ALLY at 1229 W. Concord Place, the project is a major boost to the City of Chicago's efforts to attract companies in the rapidly growing life sciences sector.
It's expected that the ALLY will be fully constructed and operational within approximately two years. The general contractor is Power Construction.
The state-of-the-art building (pictured below right) will house industry-leading companies working to achieve innovative solutions in the medical field along the North Branch of the Chicago River.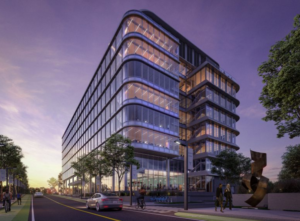 Learn more about the ALLY at 1229 W. Concord Place by watching this video.
It is our hope during #ManufacturingMonth that the products developed at the ALLY can be manufactured right here in Chicago.
This would generate many benefits to our economy such as head-of-household jobs that do not require advanced degrees as well as a reliable local supply chain.
North Branch Works is pleased the ALLY will bring high-quality jobs to our service area. Indeed, jobs in life sciences have a powerful multiplier effect; each job in this field supports an additional five to seven jobs on average.
We see this project as a great opportunity to train Chicagoans for employment opportunities in the bioscience field that will build wealth within our neighborhoods.
The North Branch remains a great place to work and do business. We would like to congratulate Sterling Bay and its partners on the groundbreaking for the ALLY.
Stay tuned for more updates about the ALLY at 1229 W. Concord Place and Lincoln Yards as the project moves forward.
Image credit (top): Kevin Hartmann, Sterling Bay
Image credit (body): Gensler