If you need a high-quality auto body repair and want to support a family-owned, small business, then you'll want to take your vehicle to Gold Coast Auto Body located at 900 W. Division St. just west of the Chicago River.
Gold Coast Auto Body has been in operations since 1992 and will celebrate twenty years at its current location in August. The shop specializes in the impeccable repairs of major vehicle brands such as Honda, Acura, Audi, Tesla, Mercedes-Benz, Subaru, and Volkswagen.
Known for providing honest advice, the co-owners, Dominic and Mario Martino, are committed to doing the highest quality work. Unlike other shops, they only use new auto parts to repair vehicles, ensuring the long-term safety of their customers.
They know the positive impact their work has on the lives of customers, the local economy, and broader Chicago region.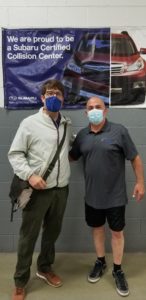 And the passion they have for their business is matched by their love of the city and its neighborhoods. Originally from Chicago, they've been longtime members of civic organizations like North Branch Works and the Lincoln Park, Wicker Park and LGBT Chambers of Commerce.
Recently, North Branch Works joined Dominic for a tour of the shop (pictured left Gold Coast Auto Body co-owner Dominic Martino and NBW staff Steve Simmons).
Prior to the COVID-19 outbreak, Gold Coast Auto Body regularly repaired fifty cars per week and employed around fifty people in jobs that paid family-sustaining wages.
Now more than ever, Gold Coast Auto Body needs work to continue providing high quality service to customers, good jobs to its workers, and support for the local economy as Chicago begins to recover.
Gold Coast Auto Body is currently open from 8 a.m. - 4 p.m. Monday through Friday and following all the COVID-19 safety precautions.
The referrals of family, friends and colleagues are greatly appreciated.
With questions and to schedule an appointment, please call 312-787-0333 and visit www.goldcoastautobody.com.