For over ten years, SYNLawn of Chicago has improved quality of life by supplying and installing a variety of high-quality products such as synthetic turf, green walls, rubber surfacing, and sports tiles.
An affiliate of AstroTurf, the company launched in 2010 due to the emergence of a commercial and residential market for artificial turf. We're fortunate to have this neighborhood business in the North Branch as it is the licensed distributor of SYNLawn products to Illinois.
Located at 2632 W. Barry Avenue (pictured above), SYNLawn has twenty-five synthetic grass products in its showroom that can solve many challenging livability issues. And if you visit in person, you can rest assured the company is following strict COVID-19 protocols such as requiring face masks and social distancing.
Installing synthetic grass in your home or office creates many benefits including reduced energy costs as well as saving time and energy on lawn maintenance.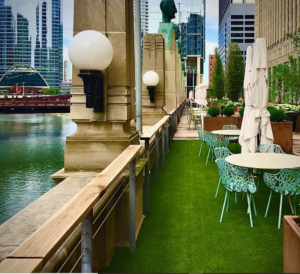 SYNLawn's talented and experienced staff can help you design and carry out improvement projects such as roof-decks, dog parks, landscaping, and putting greens. Along with improving quality of life at home and/or for your employees, investing in amenities like roof-decks increases property values.
To help people enjoy the many health benefits of living in green spaces, the company sells artificial green walls (pictured below), which are designed for people who desire this experience and might not be able to invest the time and energy into maintaining a natural one. Many of SYNLawn's green walls appear in offices and hospitality businesses throughout Chicago.
SYNLawn also offers rubber surfacing products that minimize injuries from falls and accidents. This product line is ideal for playgrounds, athletic arenas, courts, and city parks.
And thanks to its production of sports tiles, the business can design and build projects such as indoor and outdoor basketball courts. Each tile is slip-proof, tailored to fit the exact space, and tough enough to survive the most extreme weather conditions.
SYNLawn cares deeply about Chicago neighborhoods and its fellow small businesses in the North Branch. During the pandemic last summer, the company partnered with local restaurants, helping them get through the worst of it by creating attractive green spaces for outdoor dining.
North Branch Works is proud to welcome SYNLawn of Chicago as one of our newest members. The company's entire product line is manufactured in the United States; working with SYNLawn is a great way to support manufacturing and living-wage employment.
Currently, SYNLawn is offering free project estimates and would love to network with fellow North Branch Works members. And if you are a member, the company will provide you with discounted pricing.
To connect with SYNLawn, please contact Leo Alunan, Sales and Operations Manager, 773-857-5296 (Ext. 651), lalunan@synlawn.com
To request a free estimate, please go here.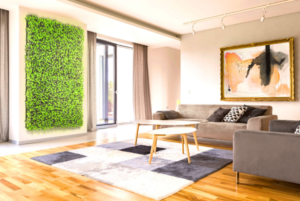 Image credits: SYNLawn of Chicago