Live jazz music swept across the North Branch of the Chicago River for the first time during the Salt Shed's opening night on August 2nd.
A well-known landmark in the North Branch, Morton Salt had long occupied a 4.25-acre property on the west bank of the Chicago River running south from Blackhawk Street on Elston Avenue.
Developer R2 Companies and its partners, Blue Star Properties and 16' on Center, converted the longtime industrial site into a mixed-use office, retail, and entertainment complex.
Plans for the Salt Shed have been underway only since 2018; the development team had to navigate the COVID-19 pandemic, city regulations, and successfully obtain a zoning change.
It's a great example of a dynamic adaptive reuse project that supports neighborhood jobs and wealth creation by turning a vacant riverfront property into a jobs center.
The Salt Shed will create 285 permanent jobs and add 41,500 square feet of new office space. The office space supports the attraction of new companies and high-quality jobs to the area.
During the summer of 2022, the Salt Shed will offer outdoor concerts with breathtaking views of downtown Chicago. It's expected the indoor concert venue will be completed in 2023.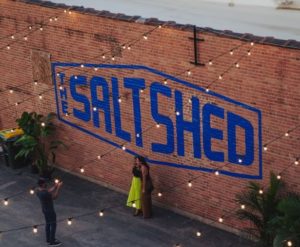 Some of the high-profile musicians scheduled to perform this summer include Jason Isbell and the 400 Unit with Shemekia Copeland, Death Cab for Cutie with Low, and Jorja Smith.
Although the Salt Shed introduces a new land use near the Planned Manufacturing District (PMD) on Goose Island, it is primarily a business use like the surrounding firms. As such, the Salt Shed is unlikely to threaten nearby businesses in the same way as residential projects, which often create conflicts with companies.
At the same time, North Branch Works remains strongly committed to ensuring the Goose Island area is a place where existing businesses can continue to grow and thrive.
These firms include Essanay Studio & Lighting Company, which films commercials and movies in its two nearby sound studios. Essanay has a 26-year history of success on Goose Island and employs many actors, lighting professionals, and support staff when the company produces these important projects.
Another incredibly valuable company is Gabriel Environmental Services, which performs soil, water, and air quality testing in its NELAC-certified, in-house laboratory. Gabriel operates just north of the Salt Shed on Elston Avenue.
We want to see companies like Essanay and Gabriel continue to operate in the North Branch over the long-term. These firms require protected environments to carry out their operations--a major reason Essanay originally moved into the PMD on Goose Island.
North Branch Works will continue to work with our members and advocate for them with decision-makers. We will ensure issues like traffic, public safety, and noise are managed so that Goose Island remains a vibrant place to do business.
We'd like to congratulate R2 Companies, Blue Star Properties, and 16' on Center for seeing the Salt Shed through many obstacles and for a successful opening.
Image credit: 16' on Center