Nearly thirty people joined us last week for a fun and entertaining tour of Off Color Brewing, Revolution Brewing, and KOVAL Distillery.
Our group met at Off Color Brewing (pictured above) located at 1460 N. Kingsbury Street. After sampling an Apex Predator, co-founder John Laffler talked about studying the brewing process at the renowned Siebel Institute in Chicago and launching the business after interning at Metropolitan Brewing.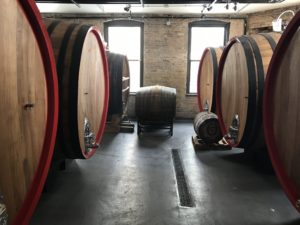 John also discussed the brewing process at Off Color Brewing, which relies upon using huge wood containers known as foeders (see right) that the business imported from Italy.
After hopping in a bus provided by M&M Limousine, we visited Revolution Brewing's taproom at 3340 N. Kedzie Avenue. Before a guided tour of Revolution Brewing's incredible manufacturing floor and massive brewing equipment, our group tasted an Every Day-Hero.
North Branch Works would like to congratulate Revolution Brewing on the recent purchase of its property in the Kennedy Industrial Corridor.
Our tour concluded with a stop at KOVAL Distillery in Ravenswood (4241 N. Ravenswood Avenue). During the visit, we enjoyed rye and millet whiskies as well as delicious pizza from Spacca Napoli in KOVAL's incredible new tasting room.
To learn more about KOVAL Distillery, please see this member feature.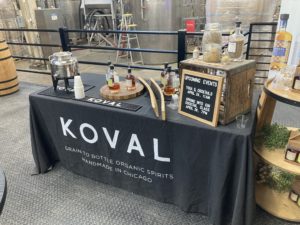 One of the North Branch's major assets is our thriving community of local breweries and distilleries. In addition to the three businesses on our tour, we highly recommend visiting Goose Island Brewery, Judson & Moore Distillery, Maplewood Brewing, Ravinia Brewing, Metropolitan Brewing, and Burning Bush Brewery.
These manufacturing businesses add great value to the city by providing high-quality jobs with benefits that do not require advanced degrees. It's a major reason North Branch Works advocates for preserving land zoned for manufacturing.
We would like to thank everyone who joined us for the brewery and distillery tour, including our friends from MxD and Logistics Property Company.
If you missed our tour and would like to support local breweries, please consider joining our fellow city delegate agency, the North River Commission, for Northwest Brewfest on Saturday, April 30th.
Image credits: Off Color Brewing