Operating in Bucktown near the Elston Avenue Industrial Corridor, Geodesic Designs produces custom furniture, cabinetry, and public artwork for Chicago's residential and commercial community. 
Owner and founder Keith Skogstrom has extensive experience in woodworking, carpentry, and design with an expertise in developing his clients' ideas and desires into polished pieces and installations.
Some of Geodesic Designs' high-profile projects include the build out for the new Grainger offices in the Merchandise Mart, the mural at Stanley's Fresh Fruits and Vegetables, the façade of the Violet Hour, a cocktail bar in Wicker Park (see below right)––which he did twice––and a mural for the River Shannon on Armitage, an Irish pub in Lincoln Park.
Keith also fabricated the German and Brazilian exhibits for the Chicago Architectural Biennial in 2019.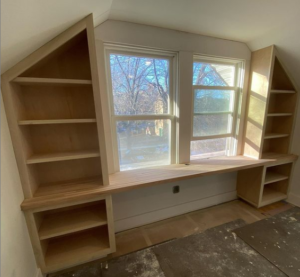 Recently, WTTW Chicago interviewed Keith and featured Geodesic Designs in a segment on Chicago Tonight.  
Throughout the pandemic, Geodesic Designs has seen strong demand for custom furniture and artwork. The business has experienced success due its location in the Elston Avenue Industrial Corridor where it is surrounded by compatible land uses. 
Unfortunately, one threat to the company's operations is the continued rezoning of nearby industrial property to residential and commercial uses. For example, Keith used to purchase materials locally from Elston Metal Tanks; because this company closed, he has to drive to suburban Addison to buy these essential products.
Manufacturing districts add great value to businesses by creating local supply chains and circulating local dollars through an area multiple times.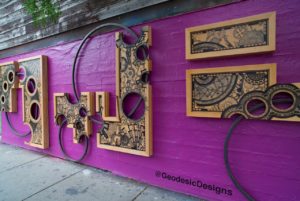 Like North Branch Works, Keith is a passionate advocate for maintaining properties zoned for manufacturing along the North Branch of the Chicago River.
North Branch Works members can support Geodesic Designs by placing orders and joining collective advocacy opportunities to protect land zoned for manufacturing and industrial uses. 
We're honored to welcome Keith and Geodesic Designs to North Branch Works as a new member business and highly recommend working with him and his team. North Branch Works is excited to support the company's continued growth and success. 
Please visit his website and follow Geodesic Designs on Facebook and Instagram.
With questions and to network with Keith, please contact him at 937-215-4106 or geodesicdesignsks@gmail.com.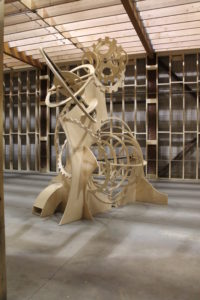 Image credits: Geodesic Designs