After attending film school at Columbia College Chicago, Will Sullivan (pictured above middle) spent seven years working in various video ad productions, developing incredible marketing and communications skills in the process.
Now, as the owner and co-founder of Vision One Agency, he applies his passion for filmmaking by helping businesses and nonprofits elevate their brands through powerful storytelling.
Founded in March of 2020, Vision One Agency is a creative video agency that serves a wide range of clients in key markets of Chicago, Denver, and Los Angeles. The company specializes in commercials, documentaries, social videos, stop motion animation, and short films.
The business overcame the challenges of opening right at the start of the COVID-19 pandemic by stringing together a series of small projects designed to help restaurants and neighborhood businesses.
Regardless of where you find yourself in the creative process, Vision One Agency will tailor its approach to meet your needs. Indeed, the business prides itself on being able to help clients come up with innovative ideas and carry them through every stage of the production process with careful attention to details.
Vision One Agency's dedicated and talented staff has expertise in video production, writing, editing, acting, and animation. Based in Bucktown, Will and his team are invested in the success of Chicago's small and industrial businesses, nonprofits, and neighborhoods.
Some of Vision One Agency's recent clients include Cresco Labs, Waterton Real Estate, Remy Martin, Coda di Volpe, and North Branch Works (to name a few).
It's a great time to partner with Vision One Agency given the importance of hosting virtual events, they can assist in producing great storytelling content for your live streams, web, and social.
In fact, North Branch Works hired the company to produce video features of our members for our first-ever Fall Fundraiser.
Please see these incredible video features of North Branch Works and our members: Metropolitan Brewing, mHub Chicago, and Guild Row.
In our case, we had a talented interviewer and three member businesses lined up; Vision One Agency helped us with the production and editing of these videos as well as thinking through our virtual program.
North Branch Works is thrilled to welcome Vision One Agency as one of our newest member businesses. The company is the only video production agency in our network; we highly recommend working with Will and his team.
Vision One Agency would love to network with and support its fellow North Branch Works member businesses and nonprofits. The business is open to working with organizations that have limited budgets.
To see its latest projects, please follow the company on Instagram and Facebook.
To connect with Vision One Agency, please reach out to Will Sullivan, Co-Founder, 312-566-8534, will@v1a.co.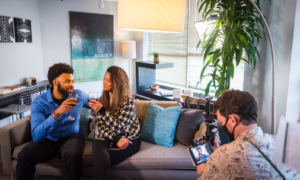 Image credits: Vision One Agency