Join us for a bike tour of the North Branch on Saturday, July 30 from 10 a.m. to noon. To sign up for this event, please go here.
The leisurely bike ride includes stops at several dynamic local businesses in our service area.
We will visit 1308 Chicago, Soul and Smoke, the Riverview Bridge, Delmark Records, and Burning Bush Brewery. During the tour, we'll hear from business owners about their histories and future plans.
The bike ride is approximately 5 miles, and we will use the Elston Avenue bike lanes for most of it. This event is designed for people of all ages and abilities.
Our tour will take us over the North Branch of the Chicago River via the new Riverview Bridge, the longest pedestrian and bike bridge in the city.
We will meet at 1308 Chicago, a new restaurant venture from Kimberly Moore, President and Founder of KDM Engineering. During the ride, we will visit Delmark Records, the oldest independently operating jazz and blues record label in the United States.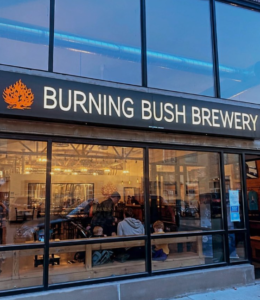 The ride will end at Burning Bush Brewery, which has set aside its patio for our group to enjoy a well-deserved rest and cold craft beer.
This bike tour is a great way to learn about the local businesses along the North Branch, as well as collective efforts to improve active transportation options.
Tickets for the bike tour are $25. All proceeds support our mission to strengthen local businesses and the creation of high-quality jobs for Chicago residents.
For questions or additional information, please contact Steve Simmons at 773-929-5552 x2226 or steve@northbranchworks.org:10033