Around thirty-five people joined us in early August for a bike tour that promoted neighborhood economic development, including visits to several of our dynamic member businesses.
The ride began with a tour of the Morton Salt redevelopment project at 1357 N Elston Avenue (pictured above) commonly known as the Salt District.
Led by developer R2 Companies, the so-called Salt District is expected to be completed in 2022 and will turn the well-known 4.25 acre site into a mixed-use office, retail, and entertainment complex.
Next, we visited the Hideout Chicago, a family-owned business, beloved bar, and live music venue located at 1354 W. Wabansia Avenue. Owner Tim Tuten (pictured below right) talked about the Hideout's long history of supporting industrial businesses and prominent musicians who've come through the Hideout.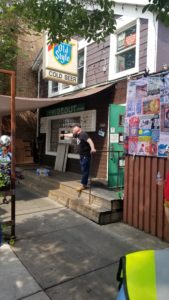 By the way, the Hideout currently offers live music and programs outdoors on its front porch. You can support the business by purchasing tickets and merchandise from its online store.
The Hideout tentatively plans to welcome people back indoors in October.
After visiting the Hideout, we traveled north along Elston Avenue passing Horween Leather Company, a tannery that produces all of the footballs used by the National Football League.
Taking Elston Avenue all the way to Rockwell Street and then turning right, we visited Guild Row (see below left), a social club that connects creative and civic minded people. Our stop included a tour of the company's event space, full-size kitchen and member lounge.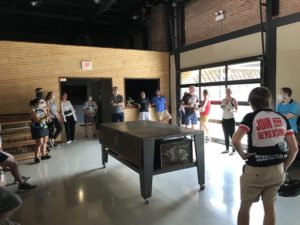 Following Guild Row, we traveled a short distance to see Rockwell on the River, a dynamic craft foods and events space on the North Branch of the Chicago River.
Rockwell on the River (pictured below right) is home to many well-known businesses such as Metropolitan Brewing, Metropolis Coffee, Wateriders Kayaks, Chicago Electric Boat Company, and Judson and Moore Distillery.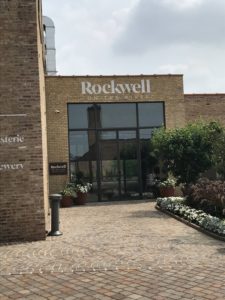 The final stop on the bike tour was Ravinia Brewing Company's new taproom in Logan Square located at 2601 W Diversey Avenue.
We enjoyed Ravinia Brewing's (see below left) outdoor beer garden as well as its innovative beers and hand-made Mexican Street fare.
North Branch Works would like to thank everyone who rode with us and our partners for a successful inaugural Bike the North Branch.
They include Active Transportation Alliance, North River Commission, and the North Branch Trail Alliance of Greater Chicago.
We'd also like to thank our member businesses including R2 Companies, the Hideout, Guild Row, Rockwell on the River, and Ravinia Brewing Company.
Stay tuned for more opportunities to explore the North Branch with us.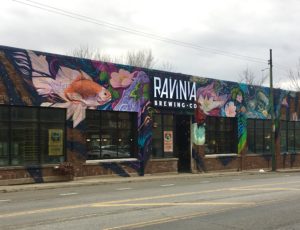 Image credits: Jim O'Reilly