We'd like to congratulate Brothers Restaurant (3000 W. Belmont Avenue) in Avondale on receiving its first permit from the City of Chicago for an outdoor café.
Located on the northwest corner of Belmont and Sacramento in Avondale, Brothers Restaurant is a family-and minority-owned small business that serves delicious breakfast and lunch dishes daily from 6 a.m. to 4 p.m.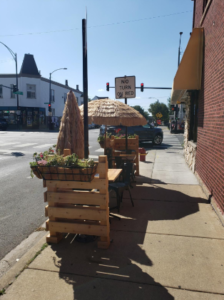 Our staff worked closely with the owners, Nestor and Laura, on their sidewalk café proposal (pictured right).
We helped them measure the available space, draw a sidewalk map, and submit the required documents to the city, a process that recently changed from paper applications to an online portal.
We are also grateful for the support provided by 33rd Ward Ald. Rossana Rodriguez and her staff and Tracy Brown of the Chicago Department of Business and Consumer Protection (BACP).
This win is a great example of the advocacy work that North Branch Works regularly does for businesses as a Neighborhood Business Development Center (NBDC) delegate agency for the City of Chicago.
If your business runs into any issues, please keep us in mind as a resource as we have knowledge and relationships that can resolve business licensing and permit challenges.
There's nothing that we love more than helping a business grow and hire more Chicago residents.
A beloved restaurant in the neighborhood, Brothers Restaurant currently has a Fall Happy Hour promotion. From Monday to Friday, all entrees are $9 between 6-10 a.m. for dine-in only.
We highly recommend the food at Brothers Restaurant. Some of our staff favorites include the Biscuits and Gravy combo, Grandma's Chilaquiles, Mexican Scrambler, and Gluten Free Pancakes. Online orders can be placed here.
During Hispanic Heritage Month, we are honored to highlight the many contributions that the owners of Brothers Restaurant, Nestor and Laura, make in our service area.