During Chicago Restaurant Week (Jan. 20th – Feb 5th), we're celebrating the vibrant restaurant scene in the North Branch.
In recent years, many women-and-minority owned restaurants have launched and brought incredible culinary and cultural experiences to our service area.
Here's a brief look at several neighborhood destinations; we highly recommend visiting and supporting these small businesses.
With a "Speak Eatery" feel to its space and comfortable tufted furniture, 1308 Chicago features something for everyone with a variety of gluten free, vegan, and meat dishes.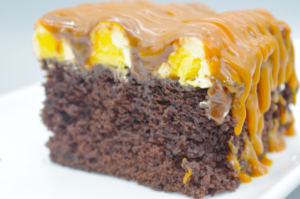 The menu also includes mouth-watering desserts like bumpy cake (right).  Located in the 1308 N. Elston office complex across from the Salt Shed, 1308 is the perfect place to host business meetings, happy hours, and events.
In June of 2022, Eden (2734 W. Roscoe Street) opened in Avondale. This woman-owned, farm-to-table restaurant offers a variety of drinks and dishes including coffee, smoothies, salads, and sandwiches. Eden is a community destination where people can work remotely, sip coffee and smoothies in the morning, and savor hand-cut sandwiches for lunch.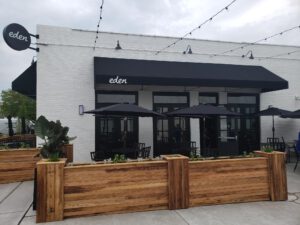 Soul & Smoke (3057 N. Rockwell Street) treats barbeque with the reverence that it deserves. With a location at Rockwell on the River in the hallway leading to Metropolitan Brewing, Soul & Smoke has an extensive menu that includes brisket, mac and cheese, brisket sliders, baked beans, and more. NBW staff love the brisket and believe it is the best that we've ever had.
Boulevard Bistro (2753 N. Western Avenue) opened in early January in the former space occupied by Cornerstone Cafe. A woman-owned business, Boulevard Bistro will provide similar home-cooked, diner style food as Cornerstone Café with some creative additions to the menu. Our team especially likes the mushroom burger, southwest salad, and corned beef.
In addition, we are thrilled for the upcoming opening of Thattu, a James Beard Award nominated, South Indian food restaurant. The business is tentatively scheduled to open in February or March just steps away from Guild Row.
Thattu will serve the cuisine of Kerala, a costal state in southwestern India. Specialties include griddled appams, beef curries, and masala biscuits.
Stay tuned to our blog and social media for an opening announcement.
North Branch Works is honored to partner with these wonderful restaurants. We encourage our members and partners to support them during and after Chicago Restaurant Week.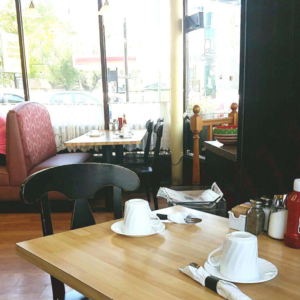 Image credits: Soul & Smoke, 1308 Chicago, Eden, and Boulevard Bistro