The City of Chicago's Small Business Improvement Fund (SIBF) is an incredible resource that provides reimbursable grants to businesses for permanent building improvements.
It's exciting that SBIF is about to open on October 1st in part of our service area, the Kennedy/Kimball Tax Increment Financing District.
Commercial businesses are eligible for grants up to $150,000 while industrial firms can receive a maximum of $250,000 with a 50% project match.
These funds can be used for upgrades like new roofs, doors, windows, HVAC systems, and more.
SBIF only comes around every two to three years, and businesses only have a month to apply for it.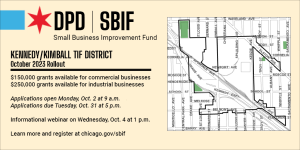 If your business is located in the Kennedy/Kimball TIF District (pictured right), we encourage you to apply for a grant.
We see the month of October as an amazing window to connect our businesses with resources that will strengthen them and support high-quality job creation for Chicago residents.
Our knowledgeable staff is available for one-on-one meetings and technical support with the application at no cost.
We can also help with securing the upfront financing necessary for SBIF grants through our Small Business Loan Fund and referrals to other lenders in our network.
The SBIF program administrator, SomerCor, will hold an information session on Zoom on October 4th at 1 p.m. To register, please go here.
The deadline to apply for SBIF in the Kennedy/Kimball TIF District is Oct. 31st at 5 p.m. Completed applications should be emailed to sbif@somercor.com.
With questions and for help applying, please contact Steve Simmons, Director of Business and Economic Development, at 773-929-5552 x2226 or steve@northbranchworks.org
Image credit (top): Mina Bloom, Block Club Chicago
Image credit (body): Chicago Department of Planning & Development