Velasquez Complete Auto Care & VMB Auto Clinic are full-service auto repair shops offering everything from oil changes and tire and brake replacements to rebuilding engines and doing custom jobs.
Started by Francisco Velasquez in 1989 as a small auto repair shop on the South Side of Chicago, the business developed a reputation for friendly, honest service as well as quick and quality repairs.
The shop has remained owned and operated by the family, with Francisco's daughter and son-in-law, Yvette and Miguel Rea, now at the helm.
Miguel gained valuable knowledge and experience from Francisco, and focused on continuously improving the level of service and supplies. Velasquez Auto Care now has over twelve locations serving the Chicagoland and Milwaukee areas.
Miguel Rea is often in the field assisting employees at the various shops to see how the company can become more advanced and efficient.
In addition to staying informed about the latest and greatest supplies, Miguel has developed an innovative design for a muffler and catalytic converter. He is currently working with a distributor in Monterrey, Mexico to finalize his concept, which will be sold under the VMB brand.
Miguel is also very excited and proud of his new project "AYG North America, LLC," a partnership with a Turkish company, that makes cutting-edge  equipment for fire departments.
Velasquez Complete Auto Care & VMB Auto Clinic employ 78 people in high-quality jobs; most employees live in the neighborhood where they work.
The company's shops at 2845 W. Belmont Ave., 3215 N. California Ave., and 3611 N. Pulaski Rd. have been around the longest, with their longest tenured employee being with the company for 18 years.
The entire workforce trains daily, learning advanced auto repair and customer service skills. The company also supports its employees seeking additional certifications so they can grow and access a career pathway.
Velasquez Complete Auto Care & VMB Auto Clinic's mission is to provide the best auto care experience for our communities. The company has seven core values as a company: people, transparency, alignment, accountability, results-oriented, discipline and inspirational. The mission is to "lead America's auto care into a new level of quality service."
Miguel and Yvette credit their ability to grow, hire, and retain their staff based on the fact that many employees are driven by the company's mission, vision and core values.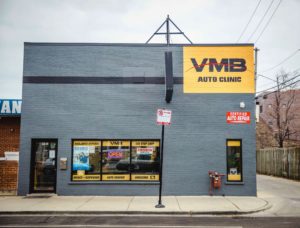 As shown by Velasquez's focus on efficiency and new technology, the company is very future-oriented with big plans for expansion, including a goal of opening three stores a year over the next decade. Moving forward, all new stores will be under the VMB Auto Clinic name.
While staying rooted in Chicago, the company hopes to grow throughout the Midwest beyond its existing locations in Illinois and Wisconsin.
Since the business is constantly growing, it's always looking to employ more people in the communities surrounding its shops.
Currently, Velasquez Complete Auto Care & VMB Auto Clinic have openings for Operations, Finance, Marketing, HR, Sales, Technicians and Service Advisors.
Anyone with interest in these jobs can apply here or contact Elia Rea at 312 722 3847, Vmbhq.hr@gmail.com
With questions and to connect with Velasquez Complete Auto & VMB Auto Clinic, please contact customer service at customercare@velasquezautocare.com.
Image credits: Velasquez Complete Auto Care & VMB Auto Clinic