As 2020 draws to a close, it's a great time to pause and reflect on the accomplishments of the year. With that in mind, here is North Branch Works' top ten list of stories from our service area in 2020.
As you read through them, please take a moment to celebrate these successes, especially if you are a member business and/or partnered with us to make them happen.
1. Our Executive Director Jonathan Snyder was selected to serve on the Lincoln Yards Community Advisory Council (LYCAC). The LYCAC meets regularly with the City of Chicago and Sterling Bay to review project status, including infrastructure design, and ensure community concerns are addressed.
2. North Branch Works helped member businesses in our service area receive $235,000 in COVID-19 relief grants and workforce development funding. We prioritized connecting our member businesses to grant opportunities as soon as they opened and helping them navigate the application process.
3. Despite the pandemic, our Small Accessible Repairs for Seniors (SARFS) program continued upgrading homes so longtime residents can enjoy a high quality of life. We're on track to complete upgrades in 20 homes this year (pictured below right North Branch Works Field Manager Reggie Hamilton installing a grab bar) and planning to hit the ground running in 2021.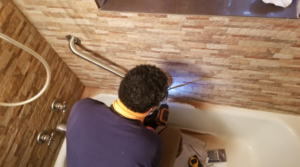 4. Eight new member businesses joined North Branch Works this year. We welcomed Rockwell on the River, mHub Chicago, the Boys and Girls Clubs of Chicago, CharityWatch, SYNLawn of Chicago, the Alley Chicago, ACN Bookkeeping, and Vision One Agency. Please consider tapping into our valuable community network of businesses and nonprofits by joining as a member.
5. To keep the momentum going for infrastructure improvements for businesses on Goose Island, we hosted the second annual Goose Island Summit, bringing together about forty businesses with city leaders, including 27th Ward Alderman Walter Burnett, Deputy Mayor Samir Mayekar, and representatives from CTA, CDOT, and DPD.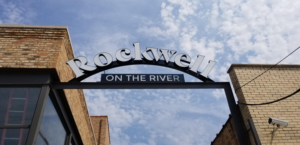 6. One of our top priorities is the growth and development of minority-owned businesses in our service area. Toward that end, we built a wonderful partnership with the Chicago Minority Supplier Development Council, which has incredible resources for minority entrepreneurs and businesses. Take a look at these features of Chicago MSDC, MBDA Business Center and the MBDA Export Center.
7. In order to support the growing business corridor on Rockwell Street, we convened a Rockwell Street Infrastructure Task Force meeting so we could get an update on an ongoing traffic study from CDOT and give community businesses a voice in potential streetscape improvements coming to this bustling area.
8. Recently, the Logan Square Farmers Market relocated for the winter to Rockwell on the River, a major win for neighborhood economic development. The Farmers Market will be open for business on Sundays between 9 a.m. and 3 p.m. until March 28, 2021.
9. Vision One Agency produced incredible video features of our business members for our first ever virtual Fall Fundraiser. Please watch these videos that showcase Metropolitan Brewing, Guild Row Chicago, and mHub Chicago.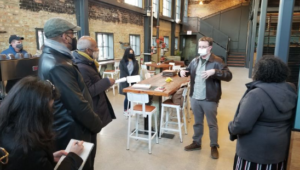 10. North Branch Works hosted Department of Planning and Development Commissioner Maurice Cox and 33rd Ward Alderwoman Rossana Rodriguez for a tour of businesses on Rockwell Street. The tour included stops at Metropolitan Brewing, Rockwell on the River, and Guild Row Chicago (pictured right, co-founder Mike Healy speaking) as well as a discussion of the urgent need for streetscape improvements in this area.
Stay on top of the latest economic development and neighborhood business news by signing up for our bi-weekly newsletter. And please follow/like us on LinkedIn, Twitter, and Facebook.
Thank you to our members, partners, and supporters for an engaging, informative, and productive year.